Tony Danza
By Drew Toal Thu May 29 2008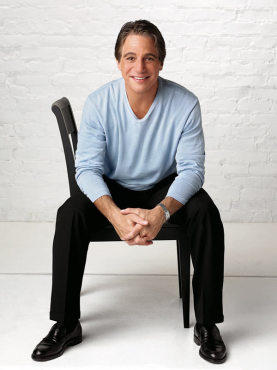 I don't mind telling you that I always fill up on antipasto.
Let me tell you something, it's a famous line in our house, because you know the Italian Americans, they have to have the whole Italian meal before they have the American Thanksgiving. Don't fill up on the antipasto because you got to eat the turkey in the end.
See, that's the thing: I'm not from an Italian family, so when I see it I just go crazy.
Yeah, well, I think they can say it to us but we still fill up on it.
So it's something that you know in your heart but you choose to ignore anyway.
You just can't help yourself.
So this isn't like a standard cookbook.
Well, it's different in that my son and I—it was my son's idea, by the way—we wanted to make a memoir cookbook, a cookbook that pays tribute to our family that we grew up with, and you know, we love food so much and got together around food all the time and tell stories of the family and sort of pay tribute to them, you know? Really, that's why I think the book's a little different. It's not like a cookbook. It's got 50 great recipes but it's also a good read.
The stories are pretty funny, like the one of you running away…
And choosing the wrong uncle's house to go to. And another one, there's a great one in terms of titles, the chapter titles, "Tied to a Tree." When my Aunt Rose tied my brother Matthew to a tree and beat him with a strap. Or "I Hate to Waste a Good Salad." How about "Nothing Like a Nice Bowl of Soup"? These are all sayings, when my father used to—he's one of those guys that's got a saying for everything. And just be like, uh, if he was around he'd be saying things like, "You gotta put a lock on a bike to keep the honest people honest." Pretty smart.
Song and dance, TV, cooking, boxing, grandpa; What can't Tony Danza do?
I'm not sure there is anything I can't do, I'll be honest with you. You know, I was talking about the act, it's called I Could Have Danced All Night, and I've been dancing in rehearsal getting ready to do it, and after I danced all day—it was our last week—I said to one of the guys I was working with, "Maybe the title should be I Used to Could Have Danced All Night." It's a little different. I don't know; listen, I'm a big believer in trying to keep yourself busy, and as different things come along that you're interested in, you take a shot and see how it works. I've been blessed, I've been able to do a lot of different things. I did The Producers, I'm gonna do this live act, I got a movie, I'm going right on into a movie after this. So it's kind of an eclectic existence.
You're a renaissance man.
Aw, thanks. And then come over and I cook while I play the ukulele.
I saw the recipe for the Super Bowl guacamole. Do you think that played a pivotal role in the Giants' victory?
Well, my son is a crazy Giants fan, so he's one of these kids that you could find him painted blue, it's one of those guys, you know? And he—and I think in the book he says he wants to make the biggest guacamole and they're gonna win the Super Bowl. We'd like to give the guacamole credit if you want to give it to us. And you know what, I was in Vegas doing The Producers. I put $700 on the money line. One the money line and I got it, I could take 4 to 1.
That's nice work.
I even cut my son in on that one. That's the kind of dad I am.
I watched some old boxing footage of you where you beat some mug named Billy Perez in, like, 40 seconds. And boxing is in a pretty sorry state, so is the time ripe for a Danza return to the ring?
Oh no, my days, my boxing days are long over. You know, I mean, I'm 58, I can't even hold my hands up anymore. That's my first TV fight. I was fighting on Manhattan cable in Prospect Hall in Brooklyn. What's funny about that fight when you watch it is the announcer seemed to be watching a whole other fight. Me and the other guy are killing each other there and these two guys are going, "Well, what's the first round like? Well, the first round is usually the feel-out round," and then he finally looks at the screen and he goes, "Holy mackerel!"
The announcer needed to get his head out of his ass.
Well, you know, I was real good when you came to me. If you come to me and box and banged and mixed it up, I was pretty good. If I had to chase you around the ring I looked pretty bad, but Billy stepped right up and we got into a slugfest. I hit him on the chin with a left hook.
I also saw a clip of Tupac saying how he had your back and everything. Does that make you West Coast?
I guess so. I'm a note writer, I like to write notes to people, and because I'm Tony Danza, they write you back. Tupac was in jail so I wrote him a letter. I wrote him a note saying that, you know, maybe he should rethink what's going on in his life, you know? I wrote him and we just started to correspond. I had a drink with him once. I mean, don't get me wrong, it wasn't like we hung together, but he was appreciative of me writing to him when he was in jail. That's what it was.
I'll add Note writer to your list of talents. What can we expect from your upcoming show?
You know, when I do my shows, I like to think of it as an old variety show where I'm the host and all the guests…you know what I mean? We'll sing, we'll dance, we'll play a few instruments, we'll tell some stories, you know; like I said, I'll get the ukulele out, so it's a well-rounded thing. It's a show. It's a big show, and like I said, we've got a great band. We've got this great girl playing woodwinds for us with guitar, bass, piano and drums. We're really gonna rock the place. We're excited about it. I haven't been there in a while and you know, I got the June dates, so that's a pretty good date. I'm excited about it. One of the things about playing in New York is you never know who might walk in the door. You never know who might be in the audience. It's so exciting.
That is true. Will you be singing "Hold Me Closer Tony Danza"?
You know, I'm gonna stay away from that one.
Have you been to Brooklyn lately?
I've not been this time. Last time I was in town I was out there.
What are the biggest changes you've seen since you grew up there?
Ah, there's the thing, I think Brooklyn has gone through a big renaissance, you know, as the price of living in Manhattan goes up, more people are living in Brooklyn and commuting in. I used to think, you know, Brooklyn is one of the most beautiful boroughs. It's one of the most beautiful places in the world and so many famous people came from there. You know, it's an incredible place, there's a little bit of gentrification, but in general Brooklyn is making a huge comeback.
Who was the real boss?
You're really gonna ask me that? You won't believe this, but it's the first time that I've heard that question. The director, how's that?
Was it the least surprising revelation ever to learn that Jonathan was gay?
Well, I don't know if it was the least shocking revelation. But in any case, I thought that this was a kid that I love dearly, a very bright guy—went to Stanford—and was a wonderful actor. He was an Eagle Scout. So I don't know what you mean by asking was it the least surprising, but I'm there for the kid. I love him.
Danza will entertain with song and dance on select dates from Tue 3–June 14 at Feinstein's at Loews Regency.
Share your thoughts