Valentine's Day
Is your romance off-the-Richter rockin' or DOA? Use our Love-o-meter to determine how you should spend the big day.
By James Y. Lee Thu Feb 12 2009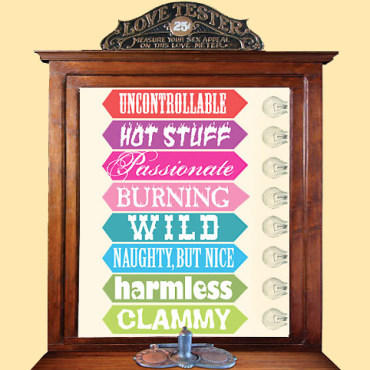 Click a category:
Evening of Sensual Machine Music Pluck some serious heartstrings when you take your amour to this (Le) Poisson Rouge event. Baby-making festivities include a three-course dinner accompanied by atmospheric techno and avant-classical music, courtesy of Lusine, Grouper, the Sight Below and pianist Michael Brofman. In other words: If you don't get lucky after this, the clergy may be the life for you. 158 Bleecker St at Thompson St (212-505-3474, lprnyc.com). Sat 14 at 7pm, $20--$55.
---
Pretty in Pink Hang with sizzling burlesque queens, go-go dancers and porn stars from the Burning Angel dynasty at this Public Assembly party, which includes a couples strip-off contest. 70 North 6th St between Kent and Wythe Aves, Williamsburg, Brooklyn (718-384-4586). Sat 14 10pm--4am; $10, dressed in pink $8. Steamy Valentine's Night at the Russian Baths Hit the steam room with other pruned couples while enjoying Gypsy music, dancing, hookahs, and free vodka and pierogi. Banya, 602 Coney Island Ave between Lewis Pl and Matthews Ct, Kensington, Brooklyn (geminiandscorpio.com). Sat 14 7pm--2am, $35--$75. Use the code TIMEOUT.
---
New Yorker Speakeasy Watch how the pros work it at the The powerHouse Arena, when actor Gabriel Byrne recites one of Dylan Thomas's love letters; Middlesex author Jeffrey Eugenides and scribe Karen Russell read their favorite fictional sex scenes; and indie rockers Grizzly Bear serenade all the lucky ducklings. 37 Main St at Water St, Dumbo, Brooklyn (866-99-ARENA). Sat 14 at 8pm, $10.
---
My Bloody Valentine's Day Think rug burn, not heartburn at this Monkey Town shindig, during which DJs will spin lovey-dovey melodies while vampire flicks (Nosferatu, Vampyros Lesbos, etc.) screen overhead and couples sink their fangs into a five-course, chocolate-themed dinner. 58 North 3rd St between Kent and Wythe Aves, Williamsburg, Brooklyn (718-384-1369, monkeytownhq.com). Sat 14 6pm--midnight, $50.
---
HEEB Storytelling: Valentine's Day Edition Join musicians Matt Singer and Ben Lerman, Penthouse columnist Lainie Speiser and The Red Leather Diary author Lily Koppel for seven-minute tales of love at the 92YTribeca. Not exactly seven minutes in heaven, but hey... 200 Hudson St between Canal and Desbrosses Sts (212-415-5500, 92ytribeca.org). Sat 14 at 8:30pm, $10.
---
Time Up's Love Your Lane Ride Pedalin' sweethearts can share the love by throwing roses to vehicles parked outside the designated bike lanes (meeting point: Astor Pl at Broadway, Sat 14 at 7pm); afterward, swap spit with conscious cuties at the DJ-infested Autumn Bowl after-party. Party: 73 West St at Milton St, Greenpoint, Brooklyn (times-up.org). Sat 14 at 8:30pm, $10.
---
Adopt a pet! Who needs human love when puppies exist? We salute these V-Day adoption options: Bideawee's Fifth Annual Find the Love of Your Life (410 E 38th St between First Ave and FDR Dr; 212-532-4455, bideawee.org; Sat 14, Sun 15 10am--5pm) and the Mighty Mutts adoption van parked outside D'Agostino (341 Third Ave between 25th and 26th Sts; mightymutts.tripod.com, Sat 14 11am--5pm).
---
19th-Century Love Speak Learn how to flirt like a proper lady/gent (with a fan!) during this Merchant's House Museum open house. Oh, stop, you're turning us on.... 29 E 4th St between Bowery and Lafayette St (212-777-1089, merchantshouse.org). Sat 14 noon--5pm, free with museum admission.
---
---