Victor Rodriguez, 22
St. Marks Place between First Avenue and Avenue A
By Time Out editors Thu Feb 22 2007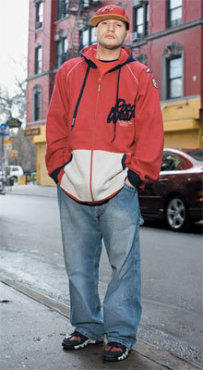 Victor Rodriguez Photograph by Jay Muhlin
"I'm dressed like a bum today—I don't usually look like this. I always wear coordinated colors. And I'm a sneaker fanatic. I have a lot of Jordans. It's been my thing ever since I was in elementary school."
Where are you from? My parents are from the Dominican Republic but I grew up in Woodside, Queens.
What do you do? I work for a butcher, delivering meat to restaurants around Manhattan.
So how is it being Meat Man? [Laughs] They don't call me that. It's okay. I work six days a week. Sometimes the restaurants give me free food, which is cool. I just got to order a 12-inch sausage pizza from Serafina.
Was that made with meat you brought them yourself? [Laughs] Probably.
What's your favorite kind of flesh? Probably steak, or burgers. I'm a picky eater, though. I hate seafood. Except for the fried calamari at Denino's in Staten Island. They're off the hook.
Mmm, you're making me hungry. Ever think about the fact that you spend all day driving dead animals around? No, not really...but there are days when I don't even want to see meat. Sometimes the smell bothers me. And I always wear gloves 'cause I hate getting the juice on my hands.
Ever consider going vegetarian? I would love to, but sometimes I just gotta eat stuff with meat.
Occupational hazard, I guess. Have you ever been to themeatrix.com? It might gross you out. No, I haven't. I mean, meat is disgusting. I just came to this job. I used to work for Gerber as a sales representative.
Yum, baby food! What's the weirdest flavor you've tried? [Laughs] That's a good question. They've got tons—they come out with new flavors every couple of months. My sister loves the stuff, and she's 20. If I was a baby I would love it too.—Kate Lowenstein