What to do on Sunday in New York City: 50 great ideas
Close out your weekend with brunch, stand-up comedy and film screenings—and discover more ideas for what to do on Sunday.
By Time Out editors Fri Jan 11 2013
Photograph: Jakob N. Layman
What to do on Sunday in New York City: 50 great ideas
1. Find the perfect brunch
1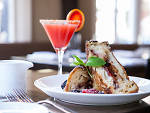 Find the perfect brunch
New Yorkers may not be a religious bunch, but we've got our own time-honored Sunday morning ritual: brunch. Whether you're dining with a group or rolling solo, here are the finest places to quell your a.m. hunger pangs (and/or hangover). Click through for our complete guide to pancakes, huevos rancheros, eggs Benedict, mimosas and other late-breakfast standards.
NYC's long-form improv royalty (including UCBT and SNL folk) play pickup-game style in this famous long-running show. There's no telling who will make an appearance on a given night, but the likes of Amy Poehler and Rachel Dratch have been known to pop in. If you want to check it out for free, line up outside the theater (early!) for the 9:30pm show; tickets are distributed at 8:15pm. Play-it-safers can buy advance tickets for the 7:30pm show for $10. 7:30pm $10, 9:30pm free.
Williamsburg's craft-beer facility offers free, no-reservation general tours on Saturday and Sunday. Post-tour, join the crowds purchasing tokens for brewskis (one beer for $5, five for $20) to taste the standard and seasonal styles on tap. Sunday bonus: This is the only day that also includes Smorgasbrewery, in which five or six vendors from Smorgasburg dish out suds-complementing foodstuffs inside the brew house. Free.
79 North 11th St, (between Berry St and Wythe Ave)
Sat 1–5pm, Sun 1–4pm
Book online
Erstwhile New Yorker Colleen "Cosmo" Murphy brings her long-running London affair back home to Gotham. The concept is simple: It's a good old-fashioned listening party, with each installment focusing on a selection from rock and pop's discography of canonical LPs, all played on Murphy's high-end audiophile hi-fi. Murphy's album selection comes from all over the genre map: the Beatles' Sgt. Pepper's Lonely Hearts Club Band, Kraftwerk's Autobahn, Bob Dylan's Blood on the Tracks. Click here to read our interview with Murphy. classicalbumsundays.com. $10.
Bellwether, 594 Union Ave, (at Richardson St)
First Sun of the month at 5pm
More info
A seven-minute ride on a free ferry from Manhattan or Brooklyn takes you to this seasonal island sanctuary, a scant 800 yards from lower Manhattan. Thanks to its strategic position in the middle of New York Harbor, Governors Island was a military outpost that was off-limits to the public for 200 years. It finally opened to summer visitors in 2006. Today, the 172-acre island provides a peaceful setting for biking (bring a bike on the ferry, or rent from Bike and Roll once there), picnicking and general relaxation. The island often hosts events such as concert series, art exhibitions and club nights (see website for schedule). Free.
Governors Island
Sat, Sun, holiday Mon 10am–7pm; May–Sept
More info
"Dr. Sketchy's is what happens when cabaret meets art school," says founder and artist Molly Crabapple. Burlesque performers and the like pose in all manner of revealing costumes (past themes have included everything from the Black Dahlia to Doctor Who), and you, oh pioneering artist, sketch them. Celebrate with booze and prizes—but bring your own art supplies—every other Sunday at the Slipper Room. drsketchy.com. Advance $12, at the door $15.
Slipper Room, 167 Orchard St, (at Stanton St)
Every other Sun 4pm
More info
A rotating selection of around 60 vendors, including local designers and artists, sets up shop in this Williamsburg warehouse every weekend. The browsable mix includes everything from original T-shirts and handmade jewelry to reconditioned vintage bags and clocks made out of old hardcover books. But Artists & Fleas is as much about the vibe as the goods: DJs spin, food purveyors offer refreshments, and sundry Billyburgers wander the rows of booths in all their quirky finery. Free.
70 North 7th St, (between Wythe and Kent Aves)
Sat, Sun 10am–7pm
More info
Does the eye-wateringly sweet taste of Frosted Flakes make you nostalgic for the cartoon-filled weekend mornings of your youth? If so, head to Spoons, Toons & Booze at Nitehawk Cinema, where Michael Austin, organizer of the '80s Sing-Along, brings you a free all-you-can-eat sugary cereal buffet and a selection of 80-plus cartoons from the '40s through the '90s (DuckTales, Jem, ThunderCats, Captain Planet—you name it). You can spike your Cinnamon Toast Crunch with a shot of Baileys or Kahlúa for $5; there are some benefits to adulthood, after all. $11
Nitehawk Cinema, 136 Metropolitan Ave, (between Berry St and Wythe Ave), 11249
Third Sat, Sun at noon
More info
The Brooklyn Museum, Kings County's premier institution, is a less-crowded alternative to Manhattan's bigger-name spaces. In this long-term installation, the museum's curators aim to break down boundaries by linking objects across vastly different fields and time periods according to shared themes. It's probably the only place in the world you'll see a Picasso painting juxtaposed with a 1,500-year-old Mayan bird vessel and a 1950s Dutch dollhouse. Suggested donation $12, seniors and students $8, children under 12 free.
200 Eastern Pkwy, (at Washington Ave)
Wed, Fri–Sun 11am–6pm; Thu 11am–10pm
More info
Nouveau York hosts Neil Aline and Jérôme Viger-Kohler keep the fun coming up in the Standard Hotel's penthouse boîte, with Aline and top guests (DJ Harvey, Club Cheval and Dimitri from Paris have played in the past) hitting the decks for a session of house, disco and more. nouveauyork.com. Free.
---
You might also like
---