William Vernon Lemon III, 28
Tenth Ave between 27th and 28th Sts
By Time Out editors Thu Jun 14 2007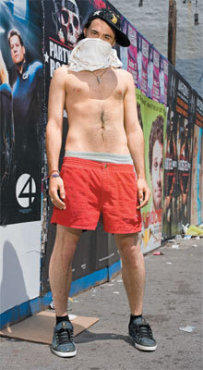 William Vernon Lemon III
"The necklace says Will + 'Tash 4 Eva.' Tash is a brilliant musician. And she's my love. Oh man, you have no idea. The most intense parts of my life were because of—and shared—by that girl."
William III, eh? That's fancy. Thanks a lot. You're fancy too.
Hey, thanks. Do people assume "trust fund" when they see that Roman numeral? No. And I'm totally not that. Can I take my shirt off?
Sure, why? 'Cause I'm a drywaller, so this is how I usually look—with my shirt over my face.
Are you really just trying to hide from TONY readers? Not at all. You know how the Native Americans say every time someone takes your picture you lose part of your soul?
You buy into that, huh? Look at all the soulless celebrities—they get their photos taken all the time.
So are you a full-time drywaller? I'm also the most technologically advanced body painter in the world. Go to art-dept.com and click on "hair and makeup." You'll find my name.
Cool. Do you bedazzle hats, too? [Laughs] No. I got this from a geriatric Florida resident.
Tell me about the body paint. I use special fabric and ink that allow me to transfer the pattern of any image onto skin, instantaneously. It's the future of jewelry. Say you had a purple houndstooth jacket. I could get the exact size and color and have the houndstooth go directly from the jacket onto your skin. It's insane.
So if I wanted, say, paisley shoulders for the evening, you could give 'em to me? Boom! Done—15 minutes. The only problem is that it's hard to get into crevices.
So something like madras cleavage wouldn't work out so well? Cleavage works great! I could do your boobs in a second.
It's not every day that someone says that to me. It's all right. I'm a professional.—Kate Lowenstein