Winter Storm Nemo survival guide (or, fun snow-day things to do)
Storm's a-comin'! Once everyone's safe and the worst is over, here are the sledding parties, snowball fights, hot drinks, fireplace bars and more that'll make you happy Ol' Man Winter finally showed his face.
By Time Out editors, compiled by Jonathan Shannon Fri Feb 8 2013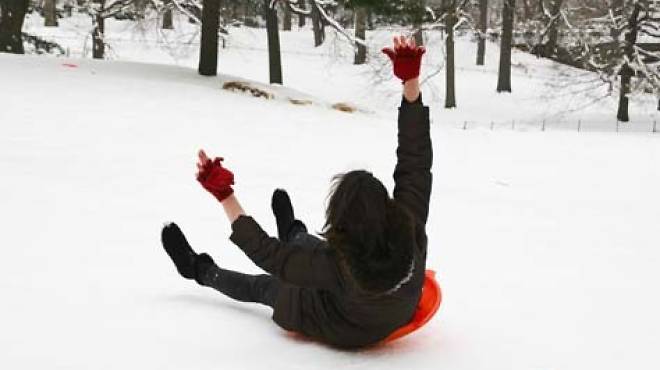 Sledding in Central Park Photograph: Time Out Photo Department
[UPDATE Sat 9 at 10:30am: The Parks Department declare a snow day, details below]
The weather outside is frightful, thanks to Winter Storm Nemo, or the snowpocalypse, or whatever other terrible portmanteau is making the rounds out there. Our advice is to stay safe (check nyc.gov's severe weather page), hunker down (our roundup of the best TV shows on Netflix this winter and best New York movies to stream on Netflix should entertain you, and God forbid, here's 50 things to do if the power goes out) and emerge from your cave on Saturday afternoon, when the weather should be nice and sunny, to enjoy the ruddy-cheeked delights of New York after a fresh snowfall. Here are some ideas for how to spend the time.
RECOMMENDED: Winter activities in New York
Time for a brisk ride down a snowy hill on a slice of plastic. First things first, though: Before heading out to a park, please, please check its website to see if it's open. Storms like this can loosen branches, causing them to fall unexpectedly, and park staff members have better things to do than chase your reckless ass away from danger.

UPDATE: It's official, the Parks Department has announced a snow day is in effect! Head to one of the five parks below (spread across the five boroughs) between noon and 3pm for free recreation. Activities may include snowman building and snow angel contests, friendly snowball fights, music and gratis hot chocolate. It's family-friendly, of course, but they'll also be packing sleds, so unless you like flying down the hill on a garbage pail lid it's worth showing up. Snow day locations:

- Manhattan: Riverside Park (Riverside Dr at 103rd St)
- Brooklyn: Prospect Park (near the Tennis House)
- Queens: Juniper Valley Park (78 St at Juniper Valley North)
- Bronx: Crotona Park (Fulton Aven at East 172nd St)
- Staten Island: Clove Lakes Park (Martling at Slosson Aves)

Now for some of our favorite sledding spots. In Central Park, hit the crowded but satisfyingly steep Pilgrim Hill (east side of park, enter at 72nd St and Fifth Ave) or the moderate (read: wimpy) Cedar Hill (east side of park, Fifth Ave between 76th and 79th Sts). Hippo Playground in Riverside Park (91st St at Riverside Dr) offers stunning views of the Hudson, and its breakneck decline has earned it the nickname Suicide Hill. Or head to out-of-the-way Crocheron Park (35th Ave between Cross Island Pkwy and 215th St, Bayside, Queens), which offers both mellow and precipitous rises. The gentle slopes surrounding Prospect Park's bucolic Nethermead (enter at Prospect Park Southwest and 16th St, Prospect Park, Brooklyn) will make you feel like you're in the middle of the countryside.

For more, check out our 2010 roundup of where to go sledding in NYC, categorized by borough. You'll also find comprehensive listings on this NYC Parks Department page, but ours is better because it's wittier.

If you're looking to join a gathering of like-minded sledders, Fluff McFluffster has posted a meet-up by the Central Park dog run, near 79th Street and the Fifth Avenue entrance. Bring your competitive spirit: McFluffster writes, "We will race with many youth type persons in hopes of being crowned 'that guy's crazy.'" Check this Facebook event page for more details (but not that many more).

Also on Facebook, the NYC Snowball Fight Club appears to be stirring. As of writing, an "epic" snowball fight has been proposed in south Sheep Meadow, Sun 10 at 12:30pm. Details may change, they may not, these things depend on the mob. Either join the group for updates or put on your demagogue hat and bend them to your will. That small patch of grass by your apartment would make the perfect venue, no?
If the roads are safe to drive on/the trains aren't totally screwed, maybe you should pack up your troubles in your ol' ski bag and head out to carve up some fresh powder. Try these ski trips, which include cool accommodation options and thrifty travel services. Want more? Try these ski resorts. There are also these adventure sports in New York State to amuse yourself with, and other winter getaways for when the novelty of precipitation wears off and you're fed up with trudging past ugly, gray banks of snow.
They warm the fingers, they warm the belly, they warm the goddamned soul: Hot drinks should be your go-to. Try one of these ten boozy options, including the Swedish Punsch at Aska and the Orchard Toddy at Cienfuegos. We also recommend staking out a prime spot in front of the hearth at these fireplace bars. If staring wistfully at flames and pondering how they encapsulate the human condition bores you, may we suggest these bars with games? Yes, we may. And since food should figure into any day of drinking, there's a good chance that one of these 25 best bowls of ramen will be dished out somewhere near you.
Photograph: Saleena Fortunato
---
Write your own review