Yetta Kurland runs for City Council
A political rookie tries to unseat Christine Quinn.
By Beth Greenfield Tue Jul 7 2009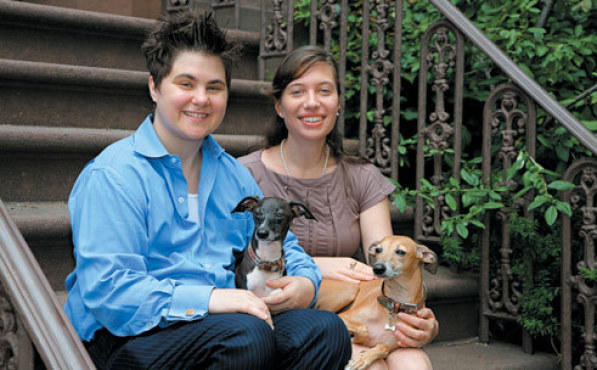 UNDERDOGS Kurland, left, lives in Chelsea with her partner, Elizabeth, and their two greyhounds. Photograph: Jasmine Hirst
For many New York City lesbians, Yetta Kurland is already a ubiquitous figure: Not only is the civil-rights attorney the official lawyer for the annual Dyke March, where she walks up front with a watchful eye on the permit-free action, she's also a legal-advice columnist for Go magazine, where her butch-serious photo (arms folded, hair gelled, cuff links showing) appears alongside her answers on topics from gay marriage to joint home-buying.
Now she's trying to become just as familiar to the rest of the city—or at least to residents of Chelsea, Hell's Kitchen and the West Village. That's where Kurland, 41, is running to represent the Third Council District against another outspoken lesbian: none other than political powerhouse Christine Quinn. Kurland will hold a meet-and-greet brunch on Sunday 12 in the Village.
"I didn't want to run against Christine Quinn," she tells TONY over coffee and french fries in a Chelsea diner on a recent afternoon. "But I unequivocally have no regrets about running." When Kurland first announced her candidacy, at the beginning of the year, it was for what would have been an open seat on the city council. But then Mayor Bloomberg extended term limits—with Quinn's support—and suddenly Kurland found herself in what is certain to be an uphill battle. (Attorney Maria Passannante-Derr has also thrown her hat in the ring for the September primary.)
"Someone with less thickness of skin or courage of heart might have bowed out," she says. But she remains undeterred, and is quick to point out that her message differs greatly from Quinn's.
"What I hope to achieve is to restore our voices locally," Kurland explains, pointing out that Quinn had made a great misstep when she reversed her position on term limits to stand alongside Bloomberg. "She had a moment in time to be a profound champion of the people," she says. "And she missed her opportunity."
Kurland, a Buffalo native, grew up "a poor kid" with artist parents. She was a women's studies major at SUNY Buffalo before working as a visiting professor in South Korea through a special grad program and then attending Brooklyn Law School. After working at a midtown law firm she started her own practice in 2002, with a focus on LGBT civil rights. She found her queer-focused work immediately rewarding—both for her clients, who have included arrested protestors of the 2004 Republican National Convention as well as Top Chef contestant and gay-bash victim Josie Smith-Malave, and for herself.
"I'm obviously lesbian and gender nonconforming," she says, "and it was gratifying for me to walk into a courtroom in a suit and tie and get respect." (Although a political colleague once advised her to dress more like a woman of politics— la Quinn—she has stuck to a more handsome look of custom-made collared dress shirts and slacks.) Kurland—who says her first name is Yiddish for "discipline in the fine and applied arts"—has been a Chelsea resident for 15 years; today she lives there with her partner, Elizabeth Koke, a writer and student of performance studies, and their two rescued greyhounds. Kurland sees three fatal flaws in the current administration that she seeks to change: the extension of term limits, which she sees as an "absolute breach of public trust"; Quinn's support of Bloomberg over any Democratic mayoral candidate; and what she refers to as "a general sense in the community that [constituents] are being ignored."
But perhaps it is her life as a vegan and what she calls her animal-rights "humane platform" that most separates her from her opponent. Kurland favors a ban on horse-drawn carriages and is vocal about making decisions that protect the welfare of animals; she has been endorsed by the New York League of Humane Voters and will help to raise money for the organization at her brunch this weekend. Quinn, meanwhile, supported horse-drawn carriages, opposed a proposed ban on foie gras and, according to animal activists, has refused to schedule a hearing on the long-languishing pets in housing bill, which would protect pet owners from eviction.
"Animals don't have a voice in politics," Kurland notes. "And the way we treat those most vulnerable is a reflection on us as a community and as a society. We as the LGBT community must remember that."
The Yetta Kurland Brunch is Sun 12. See yettakurland.com.