You asked for it: Vegan cooking classes
By Rachel Wharton Mon Feb 28 2011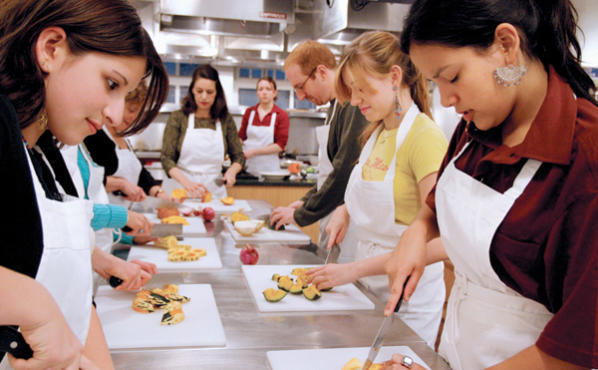 Photograph: Natural Gourmet Institute
"I am looking for vegan cooking classes. I see lots of options for vegetarians, but I can't find any purely vegan options in NYC. Can you help?"—Anonymous
Natural Gourmet Institute
The go-to for vegans who want to improve their kitchen chops, this 33-year-old health-focused culinary school offers a monthly Basics 1 class on vegan cooking techniques; it's $160 for two weeknights or one weekend session. The school also has countless other offerings like Tempeh Temptations, Unique & Elegant Vegan Hors D'oeuvres, and Vegan Baking Bootcamp, which average $110 per course. 48 W 21st St between Fifth and Sixth Aves, second floor (212-645-5170, naturalgourmetinstitute.com)
Ger-Ns Culinary and Herb Center
This brand-new Brooklyn cooking school is the latest project of Nissa Pierson, who grows and distributes fresh herbs and Fair Trade fruits and vegetables through Ger-Ns International. The first of the school's soon-to-be-frequent all-vegan classes, to be taught by Pierson and other local chefs, begin this spring: Dazzling Vegan Dinners is on April 14, and the Vegan Bakery will be held on April 17. Both are $50. 540 President St between Third and Fourth Aves, suite 2E, Gowanus, Brooklyn (347-422-0337, ger-nis.com)
Purple Kale Kitchenworks
Ronna Welsh used to work in the kitchens of farm-friendly temples like Savoy and Rose Water, but now she'll teach you how to cook in your own kitchen, showing up with the ingredients and a vegan syllabus tailored to your needs. Private classes are $125 per hour plus the cost of ingredients, and she'll teach as many as four students at once—so find three vegan friends to keep your costs down. Visit purplekale.com or call 917-297-9709 for details.
Little Lad's Caf
An inexpensive vegan culinary education can be found at this eclectic vegan caf in the Financial District, part of a national minichain run by Larry Fleming. He offers an ongoing series of $10 Monday night seminars and lectures—food included—on vegan techniques and philosophies, from working with sugars and getting enough protein to baking and planning a menu; the next series begins in mid-May. 120 Broadway between Cedar and Pine Sts (212-227-5744, littleladsonline.com)
Institute of Culinary Education
The recreational arm of this Manhattan professional culinary school offers the occasional class for vegans: Try New Vegan Chocolate Desserts on April 1. For $100, you'll get the lowdown on organic, Fair Trade chocolates, and learn how to make sweets like chocolate custard clairs and bittersweet-chocolate cake topped with dark-chocolate sorbet. 50 W 23rd St between Fifth and Sixth Aves (212-847-0700, iceculinary.com)
Users say
Would like to learn more about vegan cooking. Classes? Do you know of any in Fl.?
www.chefshomesecrets.com can do a vegan class for you.