Adam Feldman: Picks of the week (Nov 29)
By Adam Feldman Mon Nov 29 2010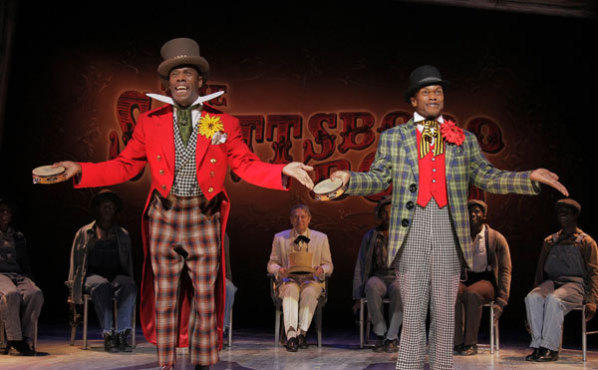 The Scottsboro Boys: I had problems with this ambitious musical, which makes ironic use of minstrel-show traditions to examine the legal railroading of nine African-American youths in the 1930s, when I reviewed the Off Broadway production at the Vineyard Theatre last season. But the reworked version that is currently playing on Broadway strikes me as much improved in a multitude of small but cumulatively important ways. (Next to Normal underwent a comparable process.) Despite some remaining cracks in book writer David Thompson's minstrel framework, I found the Broadway incarnation powerful and moving; I was newly impressed with the excellent cast, under Susan Stroman's industrious direction, and with the variety and verve of John Kander and Fred Ebb's score—the great team's last, and arguably its best since 1975's Chicago. But the show's difficult subject matter makes it a hard sell to tourists, and last week its attendance fell below 60 percent. Will you agree with my colleague David Cote, who reviewed the Broadway version while I was out of town, that the show's ambitions still outstrip its means? Or will you share my opinion that The Scottsboro Boys is must-see musical theater? I say: Go now—or if you saw it at the Vineyard, go again—and judge for yourself.
Devil Boys from Beyond: You have just one more week to catch Buddy Thomas's sci-fi spoof at New World Stages, a tasty slice of classic queer comedy served up by a masterful cast of gay farceurs (led by the supreme Everett Quinton). Charles Busch's The Divine Sister offers related camp pleasures, but in this case heaven can wait; hell will freeze over on Saturday, December 4, so flame it up while you can.
Rosmersholm: On more or less the opposite end of the dramatic spectrum is Henrik Ibsen's engrossing and provocative 1888 drama, which the Pearl Theatre Company is reviving in a plain but intelligent production. (My review went up just today.) Almost never performed—even the Pearl, which has mounted eight other Ibsen works in its 23-year history, is only getting around to it now—Rosmersholm is a deeply interesting piece of work, at once familiar and frequently surprising; it's like a reshuffled Hedda Gabler. Visit the Pearl before December 19 for a rare glimpse at one of Ibsen's best.