Critic's Picks: Helen Shaw
By Helen Shaw Fri Dec 3 2010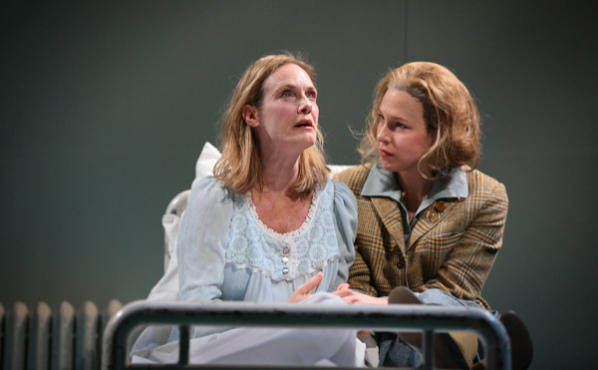 Emery wakes and realizes she's missing Middletown.
I've had a dispiriting week at the theater, so I'm eager to spare you. Part of it: underwhelming shows from people I like (Metamorphosis at BAM); and part of it was the shock of actually enduring chill winds while slogging through the East Village. So spare yourself some icy shocks and go to these instead...
Middletown: For my money, this is the best thing on in New York right now. Will Eno's first act achieves that magical sensation of bewitched suspension that only the best art can create, and then—in a quietly subversive second act—undermines our pleasure in happiness itself. It's intellectually nourishing and a barrel of fun—a rare mix these days.
The Collection & A Kind of Alaska: I had a pretty rough time in the first of these two Harold Pinter playlets, but the glassine perfection of Lisa Emery in A Kind of Alaska completely transfixed me. The heartbreaking one-act makes the familiar old 13th Street Theater feel like the top of a mountain—the air so rarified and cold, even sound travels better.
In the Footprint: As a Brooklyn dweller, this one appeals because it's about my home borough (the always erudite Civilians examine the Atlantic Yards controversy), and because it's actually in my home borough. Sometimes, nothing says "weekend" like not needing to get on the subway. I haven't seen it yet, but I'm sauntering over Saturday. See you there!