French kiss: A Bouquet for Artaud
By Adam Feldman Fri Feb 11 2011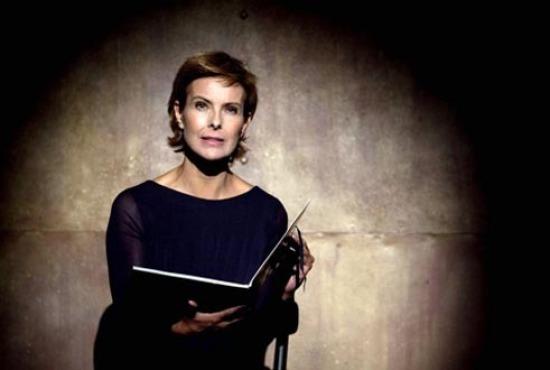 Antonin Artaud in love: The notion is almost comical. The avant-garde French playwright and theorist who pioneered the Theatre of Cruelty, wrote Jet of Blood and died of rectal cancer at the age of 51 alone in a psychiatric hospital? Here was a man made of pain from the start. The beginning of his Wikipedia bio is like something out of Edward Gorey: "His parents had given birth to nine children, however only Antonin and one sister survived infancy. When he was four years old, Artaud had a severe case of meningitis, which gave Artaud a nervous, irritable temperament throughout his adolescence. He also suffered from neuralgia, stammering and severe bouts of clinical depression, which was treated with the use of opium—resulting in a life-long addiction." Yet in the early 1920s, he wrote that he had found "the perfect, celestial love that he had dreamed of [...] the only being with whom he could be himself." She was a Romanian actor named Gnica Athanasiou, and Artaud's letters to her will be the subject of the special presentation Lettres Gnica on February 24 at Florence Gould Hall, organized by French Institute Alliance Franaise. Selections from Artaud's correspendence will be read aloud—in the original French, without translation—by the lovely Carole Bouquet, who won a Best Actress Csar for her work in Trop belle pour toi (Too Beautiful for You) but is better known to American audiences as the vengeful Bond Girl in For Your Eyes Only (and the longtime face of Chanel No. 5). But don't expect Artaud's billets-doux to be all about roses and sunbeams. After the jump, a brief sample of what they have in store.
When Bouquet discussed the project last year in an interview on French television, the show included a clip of her delivering a few lines from the performance. With apologies for any errors in my French, here's my effort at transcription: "Quand on aime vraiment quelqu'un, on l'accepte tout entier: avec ses vices, ses dfauts, ses misres, sans se lasser. Je ne consentirai jamais me separer de toi. Jamais. Il n'ya pas de marchandage dans l'amour: ou tout, ou rien. Mais ici il me faut tout. Puisque tu es impitoyable envers moi, que tu ne consens pas me laisser des repos, que tu ne te decides pas devenir raisonnable, je serai aussi cruel. Je te dirai: Je souffre!" And with further advance excuses, here's my attempt at translation: "When you truly love someone, you accept them whole: with their vices, their faults, their miseries, without tiring of them. I will never agree to be apart from you. Never. There is no bargaining in love: It's all or nothing. And here I need all. Since you are pitiless toward me, since you allow me no rest, since you won't be reasonable, I will be just as cruel. I'll tell you: I'm suffering!"
L'amour, toujours l'amour. Happy Valentine's Day!