Hedda-Louise Parker
By David Cote Mon Nov 3 2008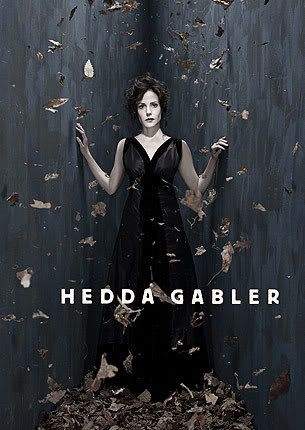 So the Roundabout Theatre Company recently launched its Hedda Gabler on Broadway website. Not much there—they could use a blurb or essay or just something explaining why the org feels the need to bankroll a new Hedda to the tune of a few mil–but there is this posterworthy pic of titular star Mary-Louise Parker (left). Sigh. Let's just take a moment and bask in the autumnal glory that is Weeds lead MLP, statuesque in a corner, being showered with leaves. Sigh. Where were we? Oh, yes, Hedda. This is a ridiculously overdone classic: Ibsen's feminist-but-not-really-feminist tragedy of a lady with an aristocratic spirit who would rather die than live in a stifling bourgeois marriage. Kinda like the Roundabout's average subscriber. We kid! After the jump, we size up Heddas of recent seasons and make some predictions as to what MLP can do to make herself MVP and ride this dead horse for the…er…Hedda pennant. Okay, jump already, before our metaphors shoot themselves in the head!
Here's a rundown of recent Heddas:
Robot Hedda (2006): Les Freres Corbusier mashed up Ibsen and robotic theory to tell the story of a bored New Jersey housewife abducted by 'droids…ya know, chances are this clever downtown production (Heddatron) wasn't seen by anybody remotely associated with the Roundabout, so let's move on, yes?
Aussie Hedda (2006): Cate Blanchett was glowing, sharp-fanged, impetuous, in this import from Down Under. The adaptation, by Blanchett's hubby, Andrew Upton, was pretty freewheeling, but she was right on—a Hedda with a cold, sadistic streak.
German Regietheater Hedda (2006): Man, 2006 was the Year of the Hedda. Katharina Schüttler took on the title role in Thomas Ostermeier's sleek, modern production, which featured a revolving stage and a laptop computer subbing for a manuscript that figures prominently in the plot. Schüttler was an usual casting choice: young, waifish, sexy, but childish, too. She and the production were refreshing, but didn't leave any kind of daunting stamp.
Bat-Shit Insane Postmodern Hedda (2004): Elizabeth Marvel, on the other hand, was a Hedda to remember, in Ivo von Hove's also modern but risk-taking version at New York Theatre Workshop. Von Hove had Hedda staple-gun flowers to the walls of her middle-class prison, run around in a slip and endure the psychosexual humiliation of Judge Brack pouring V8 juice all over her face and chest. Marvel's raw, fearless Hedda was the role pushed to its limits.
What can MLP do to distinguish her Hedda? From four seasons of Weeds, we already know she can do crazy-like-a-fox-and-foxy-too. She can be cruel and funny in the same breath. The adaptation is by Christopher Shinn, a smart and sensitive playwright who will probably find fresh nuances to the characters. No word yet as to whether Ian Rickson's production will be period or modern (it's the Roundabout, so chances are period). So readers, use the comment space below to share your wish lists and fear lists about this upcoming Hedda. What do you think MLP will do?