"It's about fucking time!"
By Isaac Butler Fri Nov 21 2008
That's our reaction to hearing that South Park creators Trey Parker and Matt Stone are writing a Broadway musical. About Mormons. Starring Cheyenne Jackson and his gaymazing thighs. Parker has been very open of his love for Broadway in interviews over the years, singling out Les Misérables as one of his all-time favorites. South Park: Bigger, Longer and Uncut is one of the greatest American musicals of the past decade (topped only by Caroline, or Change in my estimation). And who could forget the rousing musical number "Everyone Has AIDS" from Team America: World Police? The project, with Avenue Q composer Robert Lopez writing the music (rather than former collaborator Marc Shaiman), will bring a new gospel to the Rialto sometime early 2009. Saying Trey Parker and Matt Stone are no strangers to controversy is sort of like saying Jesus Christ is a noteworthy religious figure to many people. Read on as we adjust our magic underwear.
Although the plot and full cast have yet to be disclosed, the tentatively titled Mormon Musical is unlikely to make the Church of Latter-Day Saints particularly happy. This follows on the heels of widespread criticism of the faith after aggressive fund-raising and get-out-the-vote efforts the Church spearheaded on behalf of Proposition 8, the antigay measure that recently passed by a narrow margin in California. For a religion that puts on so many plays (the Mormon church in Cobble Hill seems to be doing one a week, often about cowboys or with titles like The Fabulous Invalid), it sure does seem to get the short end of the stick when it comes to theatrical representation. First Angels In America, then Confessions of a Mormon Boy, now they get the full Parker-Stone treatment. It's enough to make the expulsion from Missouri look like a day at the beach.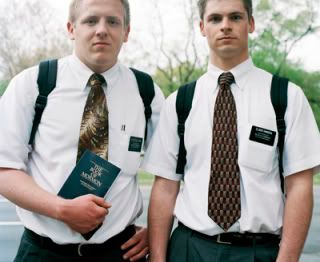 Parker and Stone will join the hallowed ranks of religious satirists of the New York stage. Past seasons have seen a wide variety of orthodoxy-spoofing work, most notably A Very Merry Unauthorized Children's Scientology Pageant, Les Freres Courbusier's delicious skewering of L. Ron Hubbard starring an ensemble of schoolchildren. The same group mounted a semi-ironic Christian fundamentalist Hell House in St. Ann's Warehouse. Saved and Altar Boyz gently tweaked Christian pop-evangelism. And old-timers will remember the brouhaha that erupted over Terrence McNally's "gay Jesus" play, Corpus Christi, at Manhattan Theatre Club.
Surprisingly, this isn't Parker and Stone's debut as stage writers. Parker's thesis film, Cannibal! The Musical! (available on Troma DVD), has been adapted for the stage and is performed all over the place—most recently in Atlanta, Georgia.