2012 Oscars: Where to watch this year's Academy Awards
Watch the 2012 Oscars at these themed affairs.
By Gabrielle Tutino Wed Feb 22 2012
Where to watch the 2012 Oscars
---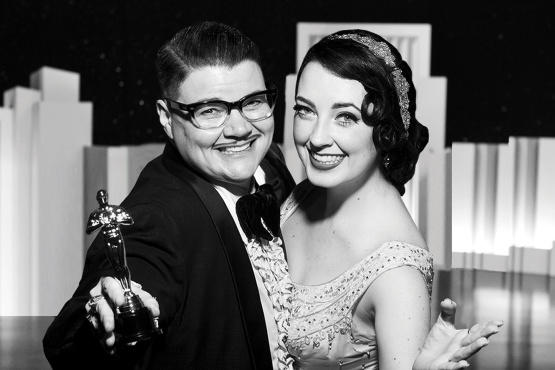 Photograph: Francine Daveta

Instead of sitting on your couch alone, tweeting about the disastrous fashions and who got robbed during the 2012 Oscars, check out a few spots where you can get gussied up, show off your movie IQ and snark on red-carpet faux pas during the 84th Annual Academy Awards. And if you're just looking for cannily named drink specials, we've got that covered, too.

Alt.Oscar 2012
Channel your inner diva at the sixth annual Alt.Oscars, where, in addition to watching a screening of the real ceremony, you can win prizes for having the best Oscar-themed costume—or for "Best Celebrity" (throw a really massive temper tantrum during the judging, and you'll be a shoo-in). Tammany Hall, 152 Orchard St between Rivington and Stanton Sts (212-982-7767, tammanyhallny.com). Sun 26 6pm--2am; $15--$20.

Ginger's Bar
You won't need to research this year's nominees for Best Documentary Short to win prizes at this lesbian bar's Oscar party and bingo night. The house will buy a round of curaao-tinted Blue Ball shots (regularly $3) every time the number 69 is called. Film buffs can also score a free bar tab if they submit a perfect ballot. Drag illusionist Luscious Lola takes on hosting duties during the show, complete with requisite costume changes and a few musical interludes. Settle in for the telecast with a bottle of bubbly ($23) and be sure to arrive early to make yourself some complimentary s'mores at the chocolate fountain. 363 Fifth Ave between 5th and 6th Sts, Park Slope, Brooklyn (718-788-0924, gingersbarbklyn.com). Sun 26 at 6pm; free.

The Paley Center for Media
Strut your stuff down a real red carpet and pose with cardboard cutouts of your favorite celebrities before this viewing party. Film critic A.O. Scott and media columnist David Carr, both of The New York Times, will conduct movie trivia: The winner gets tickets to Silence! The Musical, which is based on 1992 Best Picture winner The Silence of the Lambs. Before Billy Crystal's opening monologue, load up on complimentary roast beef sandwiches and Brooklyn Brewery beer. 25 W 52nd St between Fifth and Sixth Aves (212-621-6600, paleycenter.org). Sun 26 at 7pm; $40, members $25.

11th Annual Murray Hill Oscar Party
Don't wait for Joan Rivers to sling a few barbs at the beautiful people—get some real-time snark at this yearly event. Burly-Q regular Tansy Tan Dora and actor Drae Campbell will join Mr. Showbiz himself, Murray Hill, in running commentary, mock interviews, and reenactments of famous goofs and historic moments. Cole Escola, the night's resident sartorialist, will pick apart fashion flubs on the screen, and off it during a competition for best and worst dressed. Those who are actually paying attention to the telecast can test their cinematic IQ and win prizes in trivia and Oscar ballot contests. Joe's Pub at the Public Theater, 425 Lafayette St between Astor Pl and E 4th St (212-957-7555, joespub.com) Sun 26 at 7:30pm; $25 plus $12 minimum.

92YTribeca
This downtown hub encourages attendees to get glammed up like The Artist's Peppy Miller at its viewing party. Comedians Eliot Glazer ("Shit New Yorkers Say") and Giulia Rozzi (UCB's Stripped Stories) will poke fun at the beautiful people, and conduct the Oscar ballot contest. 200 Hudson St at Canal St (212-601-1000, 92y.org). Sun 26 at 7:30pm; $10 (includes a glass of champagne).

Southern Hospitality
Swing by one of these two comfort-food meccas for a slice of bourbon-flavored pecan pie ($7) to go along with the Academy Awards. The Hell's Kitchen location has eight HDTVs and two large projection screens, while the Upper East Side has 16 TVs and one projection screen, so you can admire Brad Pitt and Angelina Jolie from any seat in the house. Sample drinks inspired by this year's crop of nominees, including the War Horse (a black and tan made with Guinness and Blue Point, $5) or a Midnight in Paris (a classic Chambord-and-vodka French martini, $6)—though we can't guarantee that'll help you fill out your Oscar ballot. The winner will receive a $75 gift card to the restaurant or a free hour of an open bar. 1460 Second Ave between 76th and 77th Sts (212-249-1001) * 645 Ninth Ave at 45th St (212-265-1000) * (southernhospitalitybbq.com). Sun 26 at 8pm. Free, reservations recommended.