Fourth of July events
USA! USA! Celebrate America's 235th birthday at these events.
By Amy Plitt Fri Jun 24 2011
---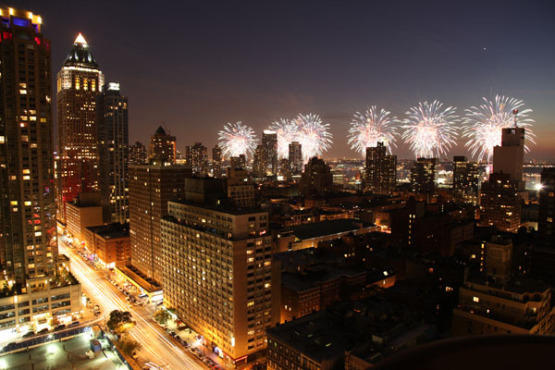 Photograph: LawrenceLenses
Stars and Stripes Forever Concert
Celebrate Fourth of July weekend with this free outdoor concert by the Community Wind Ensemble and Concert Band. Conductor Ray Wheeler will lead a selection of rousing patriotic tunes. Kingsborough Community College, 2001 Oriental Blvd at MacKenzie St, Sheepshead Bay, Brooklyn (718-368-5596, kbcc.cuny.edu). Sat 2 at 8pm; free.
RECOMMENDED: All 4th of July events
The Red Hook Ramblers Celebrate Independence Day
Dixieland band the Red Hook Ramblers provide accompaniment for classic silent comedies starring Charlie Chaplin, Roscoe "Fatty" Arbuckle and Harold Lloyd. Jalopy Theatre, 315 Columbia St between Hamilton Ave and Woodhull St, Red Hook, Brooklyn (718-395-3214, jalopy.biz). Sun 3 at 8pm; $10.
Ninth Annual Nighttime Walking Tour of Revolutionary War New York
Bring a giant cup of coffee to this late-night (or is that early-morning?) jaunt through the Financial District, led by tour guide James Kaplan. You'll hit a few Revolutionary War sites, including Fraunces Tavern Museum (where George Washington gave a final address to Continental Army soldiers in 1783), and the tour culminates with participants watching the sun rise from Trinity Church. Meeting location disclosed with ticket purchase (by Fri 1); visit frauncestavernmuseum.org for details. Mon 4 2--6am; $20, Fraunces Tavern Museum members $15.

Nathan's Famous Hot Dog Eating Contest
The Coney Island institution once again hosts this wiener battle, during which competitive eaters will see who can stuff the most hot dogs down their gullet in ten minutes. This year, the contest is split into men's and women's divisions, with a $20,000 grand prize available for the winner of each category. The favorites, respectively, are Joey "Jaws" Chestnut—who's pursuing his fifth win—and Sonya "The Black Widow" Thomas, who has held 24 different competitive-eating world records (including ones for MoonPies and chicken wings). Nathan's Famous, 1310 Surf Ave at Stillwell Ave, Coney Island, Brooklyn (majorleagueeating.com). Mon 4 at 10am; free.

The Liberty Belle Spectacular
Celebrate the Fourth in style—and yes, dapper attire is encouraged—during this vintage-themed wingding, featuring performances from Gelber & Manning and the Star-Spangled Orchestra, burlesque stars (including Angie Pontani and Gal Friday), the tap-dancing Minsky Sisters and other delights. Loungerati barkeep Fredo Ceraso will be slinging drinks all evening, and best of all, you'll be able to gaze at the fireworks over the Hudson River (minus the crowds). Empire Hotel Rooftop, 44 W 63rd St at Broadway (libertybellespectacular.com). Mon 4 5pm--2am; $25, advance $20.

Macy's 4th of July Fireworks
More than 40,000 fireworks will shoot from six barges along the Hudson during this massive pyrotechnic display (212-494-4495, macys.com/fireworks; Mon 4 at 9pm; free). The shebang begins around 9:20pm, but we suggest claiming a spot along Manhattan's West Side much earlier than that. Eleventh and Twelfth Avenues are open to revelers, but many parks along the West Side Highway are not; check the Macy's website for the most up-to-date information. If you'd rather not deal with the riffraff, shell out a Benjamin to claim a spot aboard the Intrepid (Pier 86, Twelfth Ave at 46th St; 877-957-7447, intrepidmuseum.org; Mon 4 at 7pm; $100), which hosts a viewing party—its midtown location offers a pretty spectacular vantage point for the celebration. (You may even be able to see Beyonc struttin' her stuff—she's performing at the Macy's bash, along with Brad Paisley.)