Six book events you can't miss
By Matthew Love Wed Feb 22 2012
---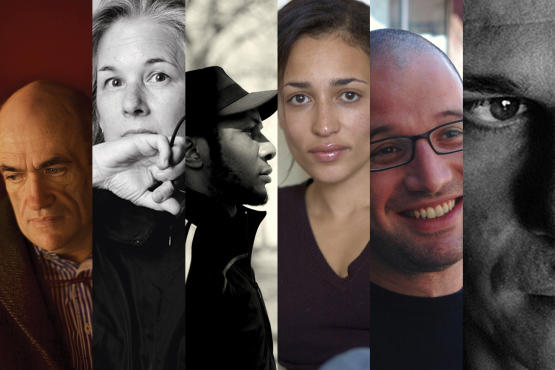 Eat, Drink & Be Literary
This convivial and cerebral series features readings and Q&As, plus wine and food catered by Great Performances. Events this year include sessions with young Nigerian-American author Teju Cole (Open City) on March 15 and Bosnian-American Aleksandar Hemon (The Lazarus Project) on April 26. Brooklyn Academy of Music, 30 Lafayette Ave between Ashland Pl and St. Felix St, Fort Greene, Brooklyn (718 636-4100, bam.org). Mar 15--June 21 at 6:30pm; $50.
McSweeney's Presents Adam Levin and Diane Williams
Editorial director Ethan Nosowsky hosts the authors, as well as another scribe published in an upcoming issue of the journal. Diane Williams published her latest collection of flash fiction, Vicky Swanky Is a Beauty, this winter. Meanwhile, Adam Levin made noise last year with his immense and ambitious The Instructions, in which an ultra-precocious schoolboy finds out what it means to be the messiah. His decidedly less massive short-story collection, Hot Pink, is due March 13. New York University, Lillian Vernon Creative Writers House, 58 W 10th St between Fifth and Sixth Aves (212-998-8816, cwp.fas.nyu.edu). Apr 5 at 7pm; free.
Selected Shorts: Zadie Smith and Colm Tibn
Novelist Zadie Smith (White Teeth, On Beauty) has been producing a lot of quality nonfiction of late, and Irishman Colm Tibn (Brooklyn) is a jack-of-all-trades as well. Neither is a stranger to short fiction, and tonight the duo collect their favorite tales, which will be read by Alec Baldwin, among others. Symphony Space, 2537 Broadway at 95th St (212-864-5400, symphonyspace.org). Apr 25 at 7pm; $27, ages 30 and under $15.
Geoff Dyer
Dyer's imaginative nonfiction—on display in collections such as last year's Otherwise Known as the Human Condition—deftly swoops through lyrical juxtapositions and personal tangents with a singular point of view. His new title, Zona, is a meditation on Russian filmmaker Andrei Tarkovsky's Stalker. As with Dyer's other explorations, a reader doesn't have to know the source material to enjoy the author's flights of fancy. 192 Books, 192 Tenth Ave between 21st and 22nd Sts (212-255-4022, 192books.com). Mar 9 at 7pm; free * John Tishman Auditorium (at the New School), 66 W 12th St between Fifth and Sixth Aves (212-229-5488, newschool.edu). Mar 10 at 7pm; free * Museum of the Moving Image, 36-01 35th Ave at 37th St, Astoria, Queens (718-777-6888, movingimage.us). Mar 11 at 3pm; free * School of the Visual Arts Theatre, 333 W 23rd St between Eighth and Ninth Aves (212-592-2980, schoolofvisualarts.edu). Mar 12 at 7pm; free.
Poets House 25th Anniversary Season
This public poetry library and literary hub, which successfully relocated to Battery Park City in 2009, is now celebrating its 25th anniversary. This season is crammed with interesting conversations about verse writers throughout history, including literary critic Haruo Shirane's meditation on Edo-period haiku writers (Mar 10), and poet Mark Doty's discussion of Walt Whitman's "Song of Myself" (Mar 24). Poets House, 10 River Terr at Murray St (212-431-7920, poetshouse.org). Mar 10, 24 at 2pm; $10. Apr 21 at 1, 3pm; $10.