The 50 best restaurants in Paris: Regional cuisine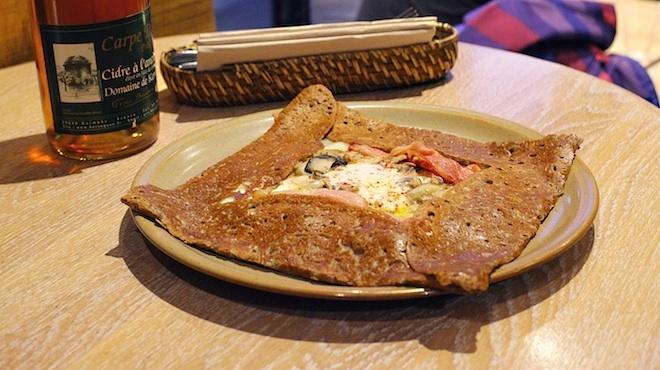 © Time Out / Laurie Grosset
Specialties from France's départements often feature on Parisian menus, but there are some restaurants devoted solely to outstanding recipes from particular regions. The heavy, comforting potato and cheese aligot from the Auvergne or the many-layered pleasures of a Breton crêpe are enough to make any gourmet swoon. These are our favourite place to find them.
The regional restaurants
With its modern interior of pale wood and its choice of 15 artisanal ciders, this outpost of a restaurant in Cancale, Brittany, is a world away from the average crêperie. For the complete faux-seaside experience, you might start with a plate of creuse oysters from Cancale before indulging in an inventive buckwheat galette such as the Cancalaise, made with potato, smoked herring from Brittany and herring roe. The choice of fillings is fairly limited, but the ingredients are of high quality - including the use of Valrhona chocolate with 70% cocoa solids in the dessert crêpes...
This rustic-style auberge is a fitting embassy for the hearty fare of central France. An order of cured ham comes as two hefty, plate-filling slices, and the salad bowl is chock-full of green lentils cooked in goose fat, studded with bacon and shallots. The rôti d'agneau arrives as a pot of melting chunks of lamb in a rich, meaty sauce with a helping of tender white beans. Dishes arrive with the flagship aligot, the creamy, elastic mash-and-cheese concoction. Among the regional wines (Chanturgue, Boudes, Madargues), the fruity AOC Marcillac makes a worthy partner. This restaurant serves one of Time Out's 50 best dishes in Paris. Click here to see the full list.
---