From the man behind successful restaurants Drouant and Mon Viel Ami, Antoine Westermann's 'bistrotisserie' (a pimped rotisserie, if you like) feels like a chic mountain chalet retreat. His gourmet poultry dishes are served in an elegant white-walled space lined with sleek banquettes, in the heights of Montmartre's Rue Lepic.
We started with a gooey boiled egg, whose crunchy soldiers came with delicious truffle-infused butter, and 'la planchette de béatilles' – nibble-sized pieces of chicken heart, gizzards, and sticky chicken wings. Then the main event, the birds: a perfectly roasted portion of Challans chicken with succulent gravy and crunchy frites, and a juicy helping of guinea fowl with crispy golden skin, served on a bed of caramelized sauerkraut with velvety mashed potato, the sweet cabbage bringing out the bird's subtle gamey flavour. To finish up, a gargantuan chocolate millefeuille and an iced Grand Marnier mousse with a sharp orange salad.
At €95 for a whole chicken for two to four people, this is a traditional rotisserie in name only; but the payoff is there in those fabulous dishes, and in the list of quality poultry producers name-checked on the menu. If you're coming with friends, book the communal table d'hôte in the back room, where the white cabin walls are covered in wine bottles, including an excellent Faugères at €29. You can also sit at the open rotisserie bar and watch the turning birds go golden brown.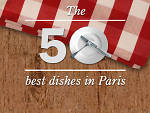 This restaurant serves one of Time Out's 50 best dishes in Paris. Click here to see the full list.