Sightseeing in Montmartre
Rated as: 4/5
Price band: 1/4
Critics choice
Free
Work on this enormous mock Romano-Byzantine edifice began in 1877. It was commissioned after the nation's defeat by Prussia in 1870, voted for by the Assemblée Nationale and built from public subscription. Finally completed in 1914, it was consecrated in 1919 - by which time a jumble of architects had succeeded Paul Abadie, winner of the original competition. The interior boasts lavish mosaics.
35 rue du Chevalier de la Barre, 18e
More info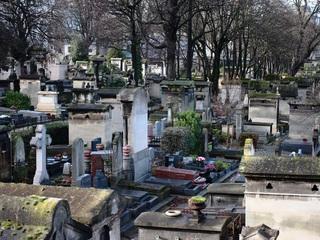 Truffaut, Nijinsky, Berlioz, Degas, Offenbach and German poet Heine are all buried here. So, too, are La Goulue, the first great cancan star and model for Toulouse-Lautrec, celebrated local beauty Mme Récamier, and the consumptive heroine Alphonsine Plessis, inspiration for Dumas's La Dame aux Camélias and Verdi's La Traviata. Flowers are still left on the grave of pop diva and gay icon Dalida, who used to live on nearby rue d'Orchampt.
20 avenue Rachel (accès depuis les escaliers rue Caulaincourt), 18e
More info
Behind the Sacré-Coeur, just next to Montmartre's vineyard, this garden is part of a very old piece of fallow land that was slowly reclaimed by nature. The trees, plants and flowers are self-sown, and created their own little meadow before the City of Paris decided to turn it in to an official biodiversity enclave in 1987. It's only local flora and fauna, but it's in fine fettle, especially as the garden is only open to the public once or twice a month in order to leave the vegetation in peace. The plot's 1,480 square metres shelter hundreds of plant and animal species, from the pond-dwelling toad to the horse chestnut trees overhanging the path and the stinging nettles which, thanks to the handy educational signs, you learn are used to treat rheumatism. Young and old alike are encouraged to join guided visits, where volunteers explain the garden's treasures, and each plant and tree is tagged to help you fill in the questionnaires they distribute. Don't miss one of the rare open days.2013 opening (1 April-31 October): 1st Sunday of the month, 10.30am-12.30pm; 1st and 3rd Wednesday of the month, 2.30.pm-4.30pm Free guided tours: Sat 6 April, 1.30pm-5pm; Sun 7 April, 1.30pm-5pm; Sat 25 May, 10.30am-12.30pm and 1.30pm-6pm; Wed 28 Aug, 2pm-4.30pm; Sat 21 Sept 2pm-6pm Groups (charge applies) email education-environnement@paris.fr or fax 01 71 28 53 68
---