50 things to do in Penang: Heritage
The best things to do to soak up Penang's rich, cultural heritage
1
Bangkok Lane is a short street consisting of houses built by the Cheah family in 1920s. Today most of these houses are rented out to boutiques, small hotels and eateries. After a walk through, the coffee shop on the corner offers, as some attest, one of the best hawker fare such as mee mamak and Hokkien mee.
Read more
2
Street of Harmony is where all the different religious worship places can be found on one road, which is Jalan Masjid Kapitan Keling. Here, Masjid Kapitan Keling, Kuan Yin Temple, St. George's Church, Sri Mahamariamman Temple, Cathedral of Assumption and Khoo Kongsi are within steps of each other.

Take a tour at the Street of Harmony & Historical Enclave with the Penang Heritage Trust.
Read more
3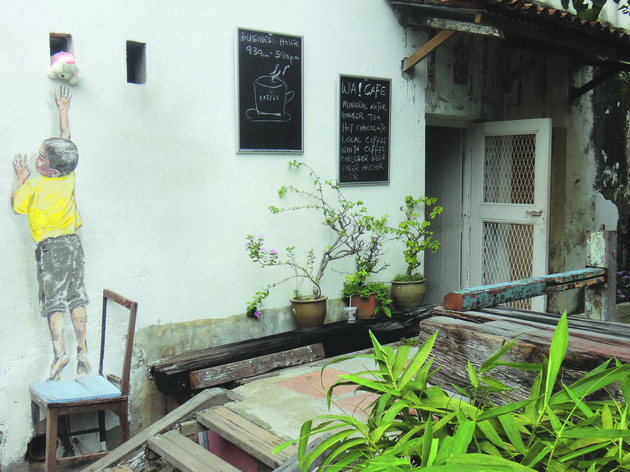 Take a stroll through George Town's heritage streets
Walk through George Town's heritage streets such as Lebuh Armenian, Love Lane and Lebuh Muntri to enjoy refurbished shop houses that are trendy cafes and boutique hotels while some remain antique stores, small businesses and Chinese coffee shops.

For more, see our guide to Penang's popular streets.
4
Experience refurbished heritage buildings by staying in one of the many gorgeous boutique hotels such as the luxurious Seven Terraces, 23 LoveLane or a modern twist to an old mansion such as Eight Rooms within Macalister Mansion. Another option is to sip tea during the daily high tea served at the lovingly refurbished Suffolk House that was once the home of Sir Francis Light.

Seven Terraces Lorong Stewart, George Town. (+604 264 2333).
23 LoveLane 23 Lorong Love, George Town (+604 262 1323).
Eight Rooms Macalister Mansion 228 Jalan Macalister, George Town (+604 228 3888).
Suffolk House 250 Jalan Air Itam, George Town (+604 228 1109).
Book now
Read more
5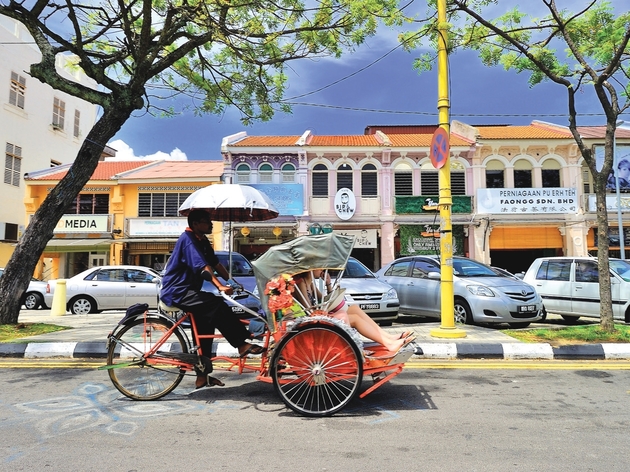 Ride the trishaw on the streets of George Town
Trishaw rides are an easy way of manoeuvring around tight George Town traffic and a cool way to see the sights or to get from point A to point B within the town centre. You'll need to agree on a price with the trishaw driver before getting on. The rule of thumb is RM30 per hour.
6
Clan Jetties on Pengkalan Weld is a walk in time. These living areas on stilts that hover above the sea of several clans haven't returned the call of development and therefore remain quite true to their original architecture and layout.

For more, see our gallery of Penang's waterfront society.
Read more
7
Craftsmen of traditional products are a dying breed. Still there are a few within George Town such as the rattan weaver on Lebuh Chulia, the famous joss stick maker on Lorong Muda, tombstone engraver on Lebuh Acheh and signboard engraver on Lebuh Queen.

Thean Seng Huat 490 & 492 Lebuh Pantai, George Town.
Mr Lee Shop House 1 Lorong Muda (off Lorong Stewart).
Kok Ying Chow signboard maker 41 Lebuh Queen, George Town.
Read more
8
Charming little exhibition such as the one in 41 Living Story is a charming bric-a-brac shop in a refurbished shop house that used to be a goldsmith business. Right at the back, in their courtyard, the old equipment for this trade is exhibited, along with its history written on panels hung on the walls.
Read more
9
Kongsi or clan houses are normally within the town centre. The large compound of these kongsi housed numerous living areas for several families belonging to the same Chinese clans, a temple and a courtyard. While there are numerous of kongsi around, the more prosperous ones and good examples to view are The Blue Mansion and Khoo Kongsi.

The Blue Mansion 14 Lebuh Leith, George Town. (+604 262 0006).
Khoo Kongsi 18 Lebuh Cannon, George Town. (+604 261 4609).
Read more
10
Local produce such as nutmeg, Chinese cookies, local handicraft and the like are easily found under one roof at either Bazaar Chowrasta on Jalan Penang or Lim Wah Thai emporium on Jalan Gottlieb. Penang's known for its nutmegs and the pickled variety that's pungent and distinct in flavour can be hard to find.

Bazaar Chowrasta Jalan Penang, George Town.
Lim Wah Thai emporium 3A Jalan Gottlieb, Air Itam (+604 228 1063).
Read more