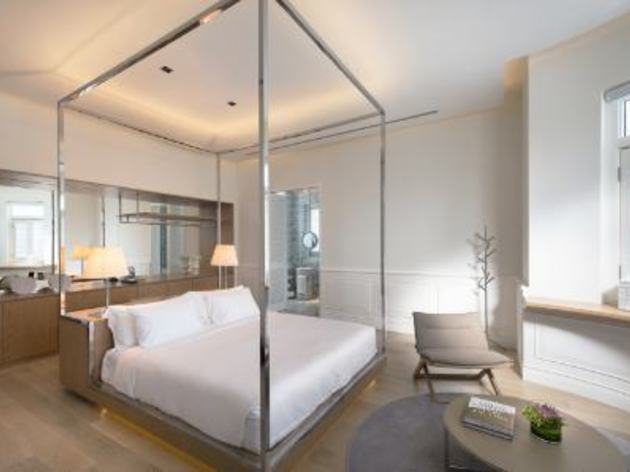 December 2012

Built in the 1900's Macalister Mansion (MM) sits grandly on Macalister Road, fondly named after Colonel Norman Macalister. A native of Scotland, he was the Lieutenant-Governor of Prince of Wales Isle (Penang) from 1808 to 1810. His life ended at sea while traveling home to Scotland, lost somewhere in the South China Seas.
MM houses two restaurants, a jazz bar, a cigar lounge and a luxury boutique hotel. The restaurants each have their own serving style and menu, the swankier of both is Dining Room, immaculate white décor around a dreamlike single wispy white tree , the casual yet trendy all day café is called simply the Living Room and The Lawn . At Bagan Bar the setting alone will create that sultry sexy mood, it's strictly smoky-sounding jazz performers that get to seduce you over the mic.
The Den is tucked to the right of the central reception area, here whisky and cigar lovers lounge and talk of manly things. As for Eight Rooms the luxury boutique hotel, it's definitely something else, discretely located on the second level – to describe them all in a word, 'fantastical'! Or it can also be described as lavish, eccentric or extravagant.
Unique art pieces are sprinkled around the spacious rooms and property each with a theme to enhance your stay to be exceptional and a unique. The artists were handpicked and commissioned and each art piece is influenced by the life story of Sir Norman Macalister and MM. Comfort is the keyword here, to rest your weary head and neck choose the firmness of your pillow from a menu near your bed, make sure you've juiced up your Bang & Olufsen Beosound with a favourite tune because once you've positioned yourself under a cloud of quilt it will take an army of mums to drag you away.
Pay special attention to the stationery, you'll be pleasantly surprised to find a couple of sheets with your name on the letterhead. Attention to detail and customisation will always warm your cockles and you'll save some as a souvenir, how clever of them!
Take advantage of the generous designer toiletries, luxuriate in the stand-alone tub with bath wine provided and best of all step into MM's bathrobes, they're as soft as rabbit's fur. Fluff and buff then dress up and head downstairs to meet the quirky locals from Penang.
As featured in Time Out Penang's 50 things to do in Penang.
Venue name:
Eight Rooms
Contact:
Address:
Macalister Mansion, 228, Jalan Macalister
Penang
10300