Your ultimate guide to Singapore
Discover the best Singapore events, things to do, restaurants, music, film, art, theatre, nightlife and more...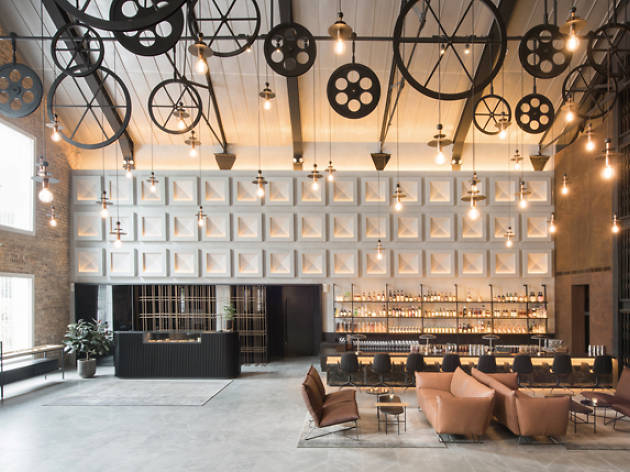 New hotel: The Warehouse Hotel
In an erstwhile warehouse that sits along the old Straits of Malacca trade route and former epicentre of Singapore's red-light district, the Warehouse Hotel whispers secrets of its illicit past: a spice trading hub at one point, an illegal distillery at another, even a reigning discotheque in the '80s. But now, Lo and Behold – the group behind the 37-room boutique space – has taken the building's 120-year history in its hands and spun it on the head. We take a peek inside. Poolside lounging The hotel's plush lounge faces the lobby bar, so if you'd rather relax away from the soft thumping beats and gentle chatter, the rooftop infinity pool – fitted with salmon pink tiles, no less – offers the reprieve you desire. Admire local artist Dawn Ang's site-specific installation fronting the pool, or kick back in one of the beanbags or deck beds while soaking in views of the Singapore River. Rooms with a view Mostly, anyway. Who needs windows when your 27-sq-m Warehouse Sanctuary (from $265) looks this good? Wooden panels, sleek beams, a custom pillow top king mattress with finishing touches by MatterPrints, and a cheeky, open concept standing shower make it seductively easy to linger in your room all day. For a loft-style upgrade, book out the River View Suite (from $495). As its name suggests, the room overlooks the Singapore River from the uppermost floor of the triple-peaked heritage hotel. Natural light is key in the roomy 57-sq-m space that's set with earthy tones, raise
New restaurants and bars in SG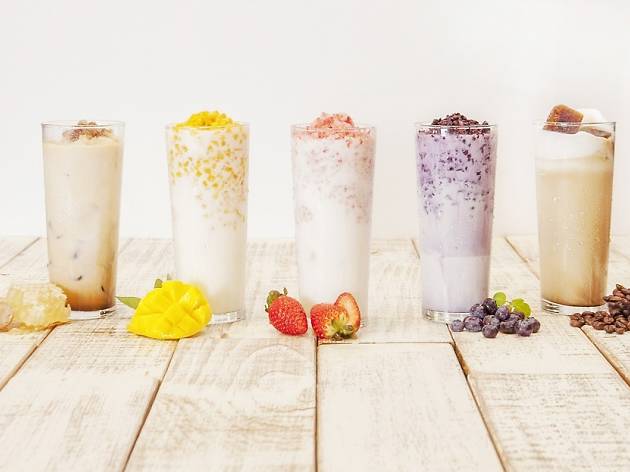 Dal.Komm Coffee
Put yourself in the shoes of Song Joong Ki or Song Hye Kyo, from popular Korean drama Descendants of the Sun, when you visit Dal.Komm Coffee. The Korean café chain was where scenes from the drama were shot. Beyond its wide range of drinks and snacks, music plays a key role in the café's identity. You'll find vinyl covers on the walls and an area dedicated to open mic events. Find a cosy seat and sip on your drink, choose from espressos ($4.50), cappuccinos ($6/$6.50) and caffé lattes ($6-$7.50) brewed from three exclusively sourced Arabica bean blends. Alternatively, satiate your sweet tooth with refreshing drinks like the honey grapefruit ($8.50/$8.90) or strawberry cube ($8.50), where frozen strawberries are crushed and heaped on top of iced milk.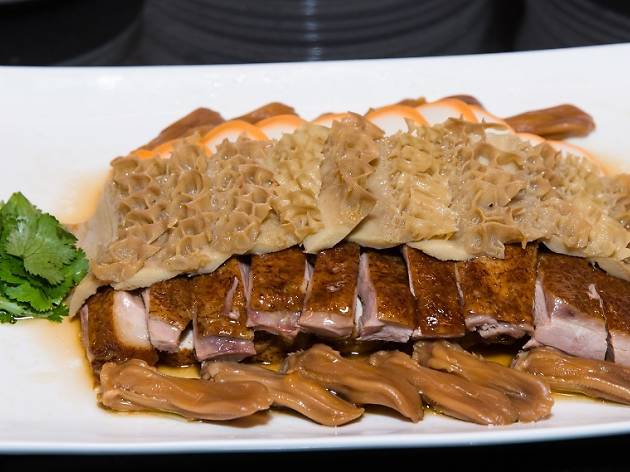 Imperial Treasure Fine Teochew Cuisine
The new Imperial Treasure Fine Teochew Cuisine in ION Orchard is a more refined version of the original, with a spacious main dining hall and six lavish private rooms. Signature dishes include diced abalone and chicken wrapped in egg white ($25), soon hock fish ($10/100g) served in a broth with minced pork and Chinese cabbage, and a combination platter of sliced duck meat, duck tongue, cuttlefish and beef tripe marinated Teochew style ($34-$68).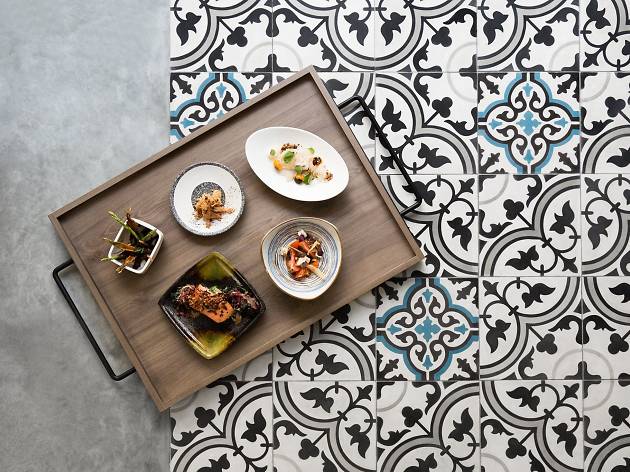 Kite (new menu)
While the à la carte menu is available for lunch, the dinner experience is purely omakase ($75/ten-course, $90/12-course, $120/14-course, $140/18-course). From the first course, we knew that Kite will bust every convention we have of mod-Sin cooking. The chicken rice crackers have the same garlicky taste as our national dish but it's been reinterpreted here in a way that we've never seen before. Similarly, the Mangalica pig collar is served in a spiced broth with you tiao veloute to mimic the taste of bak kut teh. This is subtle yet clever cooking. The star dish, though, is uncharacteristically Japanese. The mentaiko somen is served with Hokkaido scallops, unagi and tobiko – each bite is full of flavour and the scallops are seared to a perfect medium-rare. While the menu does seem disconnected at points, these hints of Japanese influence are at least tied together by the sake pairing ($40/three glasses, $70/five glasses).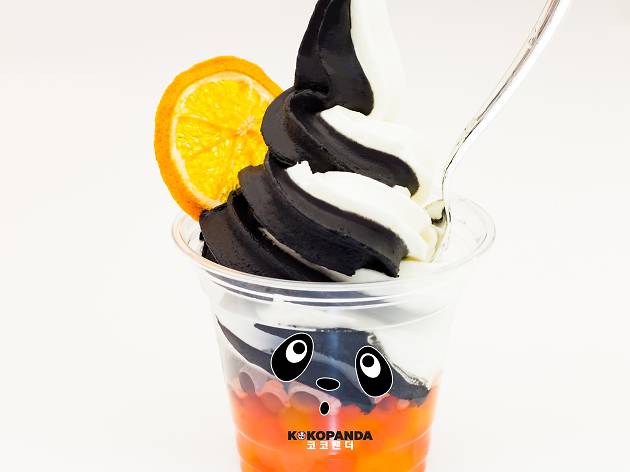 Kokopanda
Charcoal black frozen yoghurt might not sound very appetising but this tangy creation at Kokopanda is tastes better than it looks. The Koko Black Yogo is made from roasted coconut husk, containing edible activated charcoal, that aids digestion while providing you with a tasty treat. Choose to have it plain or twisted with the Koko White Creamo, a soft-serve ice cream made from milk from Korea. Top the soft-serve with dried fruits, imported from Korea, such as strawberries, apples, and Jeju tangerines. Each cup is priced at $4.90 with one free topping or $5.90 for a cup with three toppings.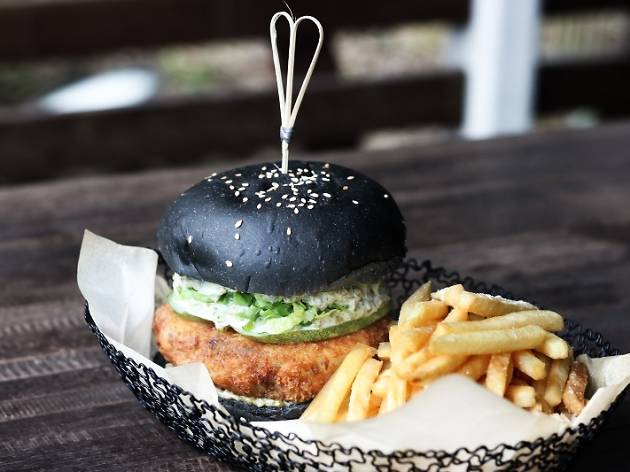 Open Farm Community (new menu)
The refreshed dining menu still pays homage to local produce and flavours. Besides herbs and plants from OFC's own backyard, up to 90% of the fresh ingredients featured on the menu are sourced from farms in and around Singapore – just ask the friendly server about the origins of your meal. If you're only going to have one starter, make it the steak tartar ($26) marinated with ginger chilli, spring onion and coriander puree served with an organic egg yolk. Standout mains include the OFC fish burger ($30) which features a firm, fork-tender red grouper patty nestled between squid ink buns, and the roasted pink red snapper ($32) sitting on a spread of roselle and hibiscus ketchup, pickled cucumbers and a sesame cucumber salad.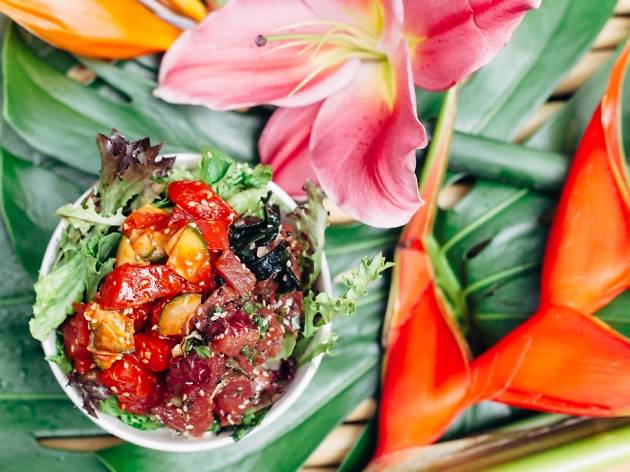 Pololi
Pololi, Asia's first poké chain, is surfing straight out of Hong Kong and setting up shack on our shores in the CBD. Chef-owner Steph Kudus taps into her time living in Hawaii to capture the laid-back 'Aloha Spirit' in the beachy-chic takeout shop. The five flavours available daily are rotated from a repertoire of over 20 different poké flavours so you'll always have something new to try each time you head to the store. Select your bowl size ($17.99/180g and $15.99/150g) and pick from flavours such as the signature traditional spicy or yuzu salmon. Weekly specials include sweet onion teriyaki swordfish, Thai spicy tuna, Korean spicy tako, ginger marlin and even sambal, for those who like their fish with local spices. Also, grab some Hawaiian treats such as Spam musubi, tropical granitas and Kona Brewing Co's beer while you're there.
See more new restaurants and cafés
101 things to do in Singapore