3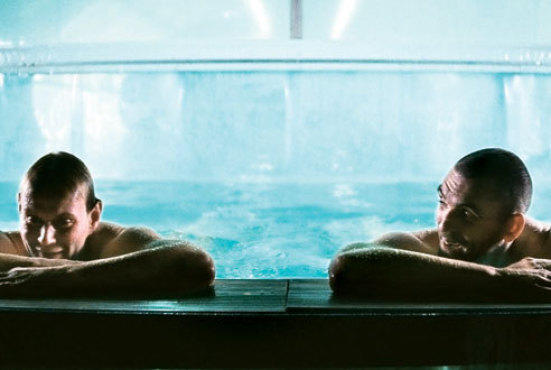 Devid Streisow and Sebastian Schipper in 3
Time Out rating:
<strong>Rating: </strong><span class='lf-avgRating'>2</span>/5
Time Out says
Tue Sep 13 2011
It's been called a magic number, something one gets "the hard way," both company and a crowd; in Tom Tykwer's eroto-art-house romantic drama, three is somehow all of these things at once. Simon (Schipper) commissions artists for corporate sculptures, Hanna (Rois) hosts a TV talk show; their relationship is atrophying rapidly. When a handsome scientist named Adam (Striesow) enters the picture, Hanna drifts into an affair as her boyfriend is treated for testicular cancer. Months later, a post-op Simon strikes up a conversation with a male swimmer, who gives him a "scar check" in the locker room. Simon begins hooking up with this gent regularly. Three guesses as to who his lover is.
"Say farewell to your deterministic view of biology," exclaims one character. (Um, okay.) Apparently, we're supposed to bid adieu to filmmaking that isn't overburdened with bells and whistles, too, as Tykwer employs an arsenal of stylistic and storytelling tics to embellish his love-triangle scenario: interpretive dance sequences, split-screen compositions, movie and literary allusions aplenty. When the director unleashed Run Lola Run in 1998, his pop-punk bursts of energy gave German cinema a much-needed kick in the pants. Tykwer's virtuosic technique has overwhelmed his work ever since, however, and no matter what the film says about sexual fluidity, you can't shake the feeling that 3 exists primarily to justify a shot of three figures impeccably posed together on a mattress. Everything else is reduced to trumped-up afterthoughts.
Follow David Fear on Twitter: @davidlfear
Author: David Fear
Users say
<strong>Rating: </strong><span class='lf-avgRating'>0</span>/5