Children of Paradise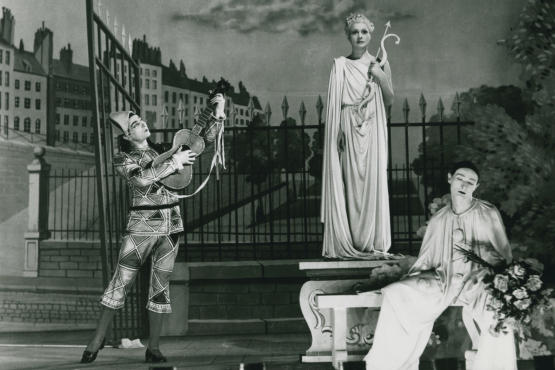 Jean-Louis Barrault, right, in Children of Paradise
Time Out rating:
<strong>Rating: </strong>5/5
Not yet rated
Time Out says
Tue Mar 6 2012
Before French cinema reinvented itself with jump cuts and cool bobs, Marcel Carn's 19th-century backstage drama was the epitome of good taste: a sumptuous spread of genteel sparring and epic heartache. It doesn't seem dated now---at least no more so than Breathless does---but the real revelation of Children of Paradise for today's audience is behavioral: Were actors always this adorably vain? (Duh.) The cryptic Arletty allures from the sidelines as a love object to three characters, yet she won't grab you as firmly as Jean-Louis Barrault's fragile, almost abstract mime, Baptiste, enchanting crowds nightly, or the supreme hamminess of Pierre Brasseur's Frdrick, a star in his head long before fame hits.
The movie arrives at Film Forum in a speckless restoration---though not as a print. Rather, it's being projected as a "DCP" (digital cinema package), the omega of video technology and increasingly becoming the industry standard. Will you be able to tell the difference? Having seen the presentation, I'd say no: Carn's film has never looked more lush, and I certainly didn't feel like I was at home in my den. The arguments concerning the switch-over are complex and hot-blooded; there's nostalgia for the old reels, plus a serious economic question of which titles get to make the leap. (The venue has just concluded a series of other upgrades that included Goldfinger and Bye Bye Birdie.) But the simpler way to put it is this: How many times have you sat through a screening---including many at Film Forum---that's been slightly out of focus? That problem is now solved, and let's not understate it---if a genius work like Carn's could result in a massive headache, there's no point in preserving anything.
Follow Joshua Rothkopf on Twitter: @joshrothkopf
Watch the trailer
Author: Joshua Rothkopf
Share your thoughts