Daisies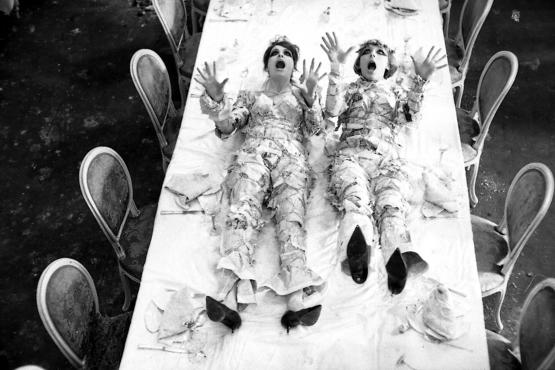 Jitka Cerhova, left, and Ivana Karbanova in Daisies
Time Out rating:
<strong>Rating: </strong><span class='lf-avgRating'>5</span>/5
User ratings:
<strong>Rating: </strong><span class='lf-avgRating'>5</span>/5
Rate this
Time Out says
Tue Jul 3 2012
An anarchistic call to arms, an acid-trippy rethink of Gentlemen Prefer Blondes, the ultimate example of '60s Eastern Bloc absurdism, a reveling in the joys of free-form filmmaking freak-outs, a dessert topping, a floor wax—you can call Vera Chytilová's 1966 comedy about young women on a hedonistic, her-storic bender anything you want. Regardless of how you slice it, this Czech New Wave masterpiece uses its comely "daisies"—Marie 1 (Jitka Cerhová) and Marie II (Ivana Karbanová)—to mount a full-frontal assault on Communist repression, patriarchal entitlement and narrative conventions, two years before the Prague Spring and eight years before Céline and Julie were borne back ceaselessly into the past. The result was banned by the powers that be and derailed the filmmaker's career for a decade, but Chytilová won the war: Thirty-six years later, this Molotov cocktail of fizzy champagne and feminist theory has not lost any of its combustible carbonation.
From elderly apparatchiks to cinematic continuity, nothing is sacred, as the director punctures the illusion of "civilized" society and viewer's frontal lobes. Film stocks and color tints change on a whim; scenes tend to devolve into slapstick, violence or the most erotic eating sequences ever shot (sorry, Tom Jones). Detractors might accuse the film of favoring sexiness and fury over cogent arguments, but to Chytilová, even striking a pose is a political act. In case anyone thinks this is female frivolity for its own sake, an end title spells it out: "This is dedicated to those who get upset only over a stomped-upon bed of lettuce." Dadaist rage by any other name smells just as sweet. Let a thousand other subversive flowers bloom.
Follow David Fear on Twitter: @davidlfear
Author: David Fear
Users say
<strong>Rating: </strong><span class='lf-avgRating'>0</span>/5