Dead Man's Burden: movie review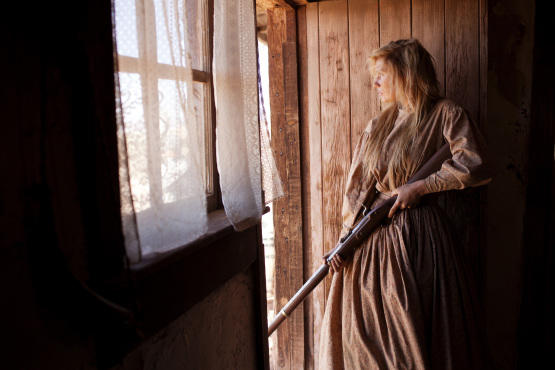 Dead Man's Burden
Time Out rating:
<strong>Rating: </strong><span class='lf-avgRating'>3</span>/5
Time Out says
Posted: Tue Apr 30 2013
It takes a brave cuss to make a Western these days, especially if a filmmaker aspires to evoke majestic, moody grandeur on a modest budget (and one's name is not Quentin Tarantino). So tip those Stetsons, folks, to Jared Moshé, an around-the-way indie producer whose directorial debut boldly treads in large bootsteps. An old man gallops across a plain, a young woman (Clare Bowen) fires a particularly phallic rifle at him, and one woodsy plateau over, a wandering cowpoke (Barlow Jacobs, a genetic fuse of Josh Brolin and Timothy Olyphant) deals with some rangy fellas who think they recognize him from somewhere. Turns out they do, so hello, hot lead!
Ten minutes in and we're already deep into '70s revisionist-oater territory; this is a man who knows his Monte Walsh. And once we see how those three characters are connected—not just through spilled blood, but by the thick red liquid running through their veins—it's clear that Moshé has studied the Freudian horse operas of the '50s as well. But impressive pedigree or not, there's a distinct, distracting sense of distance among the players, their vengeful characters and the fictional world they're in. One doesn't demand verisimilitude from Westerns, but the flat affectations and lack of believably hardscrabble lives lived start to fray the illusion to a fault. For all of Dead's beards and dirtiness, you never get over the feeling that you're watching modern actors play frontier-drama dress-up. It's a deathblow.
Follow David Fear on Twitter: @davidlfear
Author: David Fear
Users say
<strong>Rating: </strong><span class='lf-avgRating'>0</span>/5