Detention (R)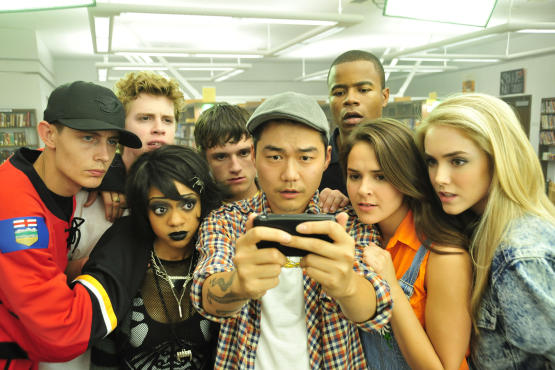 Jonathan Park, center, in Detention
Time Out rating:
<strong>Rating: </strong><span class='lf-avgRating'>1</span>/5
Time Out says
Tue Apr 10 2012
From the auteur of Torque (2004) comes this instant headache: a panicky snark-schlock horror-comedy that reduces everything to a hyperactive squall of white noise. If you watch Detention and are somehow able to sift out a coherent plot, you are either off your Ritalin or—an equally possible scenario—too addicted to your Twitter-addled lifestyle. (Expect loyalists to come to the movie's defense as an expression of bat-shit generational despair.) Extremely loosely, the film concerns an unlikable group of jittery high-schoolers, punished Breakfast Club–style by principal Dane Cook. On the loose is a wraith called Cinderhella, whose bandaged face and bloody dress signal doom for promgoers.
The above sounds way too understandable, though, a disservice to potential ticket buyers. Glutted with hectoring onscreen "ironic" text, fourth-wall camera breaking, manic fracturing of chronology and blink-and-you'll-miss-it violence, Detention's nonflow is the furthest thing from exhilarating or pleasurable. Other sledgehammer touches, like a time-traveling '90s-obsessed cheerleader (Spencer Locke) or an up-its-own-ass meta-sequence involving watching older Cinderhella movies for tips, feel like desperate distractions from the vacant core. Joseph Kahn, as with many directors before him, got his start in advertising; unlike them, he has zero interest in (capability of?) using an expanded running time to stretch out. Rather, the whole thing comes off like 200 commercials smashed together, selling you your own obsolescence. Don't hate yourself enough to slake any curiosity.
Author: Joshua Rothkopf
Users say
<strong>Rating: </strong><span class='lf-avgRating'>0</span>/5