Gigante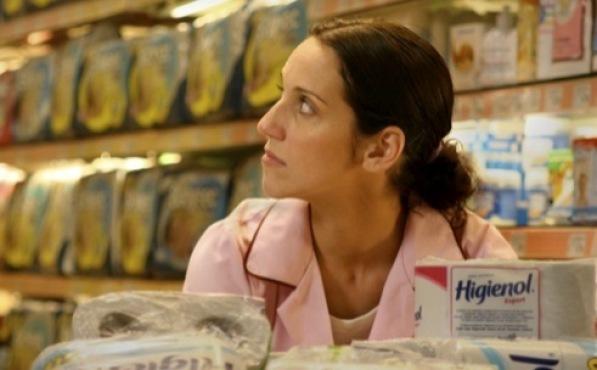 LOST IN THE SUPERMARKET Svarcas tidies up another fine mess.
Time Out rating:
<strong>Rating: </strong><span class='lf-avgRating'>3</span>/5
Time Out says
Tue Dec 1 2009
The history of movies comes with a long list of God's lonely men, those socially awkward males who run the gamut from tragically misunderstood misfits to he's-gonna-blow! sociopaths. It takes a while to figure out where Jara (Camandule), the protagonist of Uruguayan filmmaker Adrin Binez's character study, falls on the creepometer. A graveyard-shift security guard at a supermarket complex, this shy hulk with a penchant for heavy-metal music mostly keeps to himself. After Julia (Svarcas), a young woman who mops the floors, catches his eye on the surveillance cameras, Jara becomes both her guardian angel and her stalker. When an asshole boss threatens Julia, he has him conveniently paged over the loudspeaker; when she goes to an Internet cafe, the quiet giant spies on her relentlessly. Does Jara feel genuine affection for this mousy-cute cleaner or is his sudden attention slightly suspect? Is this guy Lloyd Dobler or Travis Bickle?
That you're still unsure until Gigante's end is a credit to Binez and his actors, who don't push Jara toward caricature and never pander to our sympathies. The problem is that the film also refuses to move beyond a glacial pace, and its choice to go slow-and-low doesn't scream art-house aesthetic so much as unintentionally sluggish. For such a small character study, that decision ends up being a doozy of a deal breaker.—David Fear
Opens Fri; IFC. Find showtimes
Watch the trailer
Users say
<strong>Rating: </strong><span class='lf-avgRating'>0</span>/5