Good Neighbors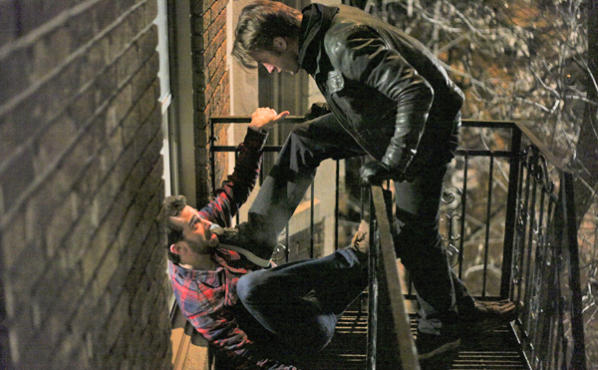 Jay Baruchel and Scott Speedman in Good Neighbors.
Time Out rating:
<strong>Rating: </strong><span class='lf-avgRating'>2</span>/5
Time Out says
Mon Jul 18 2011
Set on the eve of a separatist referendum in Montreal's Notre-Dame-de-Grce quarter, Jacob Tierney's mordant thriller maps Quebec's internal tensions onto the microcosm of a small apartment building, where slights real and imagined deepen into gaping wounds. Call it Le dner des creeps, with each apartment dweller worse than the last: Standoffish Emily Hampshire cares more for her cats than any human; shy, awkward Jay Baruchel pursues friendship until his amicable overtures become obsessive. Hinkiest of all is Scott Speedman's wheelchair-bound widower, first seen grinningly urging his pet fish toward cannibalism. There's also a serial killer stalking NDG, though the maniac's mutilations and violations are nothing compared with the aggressively thickening malice between tenants.
Tierney (The Trotsky) is admirably unflagging in his death's-head determination, making Good Neighbors play like one long sick joke with only the occasional raised eyebrow to let us in on it. It's blackhearted fun, but eventually the spurt runs dry, and all that's left is a pallid corpse. Baruchel sticks to his guns with equal aplomb, infusing his lovelorn elementary-school teacher with an underlying edginess that makes him more unnerving the friendlier he gets. The actor might be a few steps behind some of his Apatovian stock-company colleagues on the road to stardom, but his performance hints at a range he's only beginning to tap.
Follow Sam Adams on Twitter: @SamuelAAdams
Watch the trailer
Author: Sam Adams
Users say
<strong>Rating: </strong><span class='lf-avgRating'>0</span>/5