Last Train Home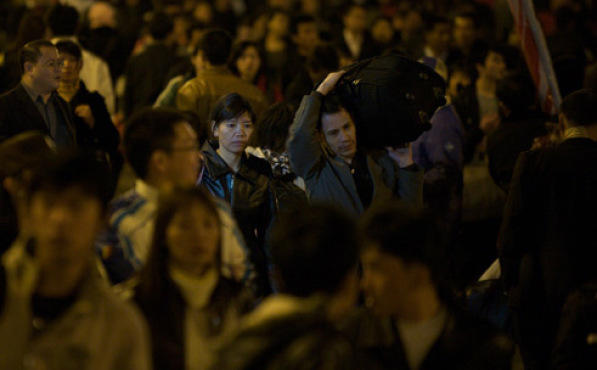 Time Out rating:
<strong>Rating: </strong><span class='lf-avgRating'>5</span>/5
Time Out says
Posted: Mon Aug 23 2010
It's the umbrellas that first catch your eye: scattered yellow and blue ones hovering over a group of people. Then the camera starts to pan, and the more brightly colored parasols you see---turquoise, fuchsia, purple---the more you realize that this crowd actually numbers in the hundreds. They're Chinese workers waiting to catch trains for their annual pilgrimage home for the New Year. More than 130 million of them will ultimately make the journey.
Within its first few minutes, Lixin Fan's documentary on "the world's largest human migration" distinguishes itself as something more than your typical Dateline-ish social-issues missive. The attention to visuals is above and beyond what most vrit is capable of; doing double duty as the film's cinematographer, Fan demonstrates a pitch-perfect photojournalistic eye. (One shot of tiny figures holding pink luggage and crossing a field looks just like an Impressionist painting.) That Last Train Home balances such impeccable compositions with its cultural context and humanistic content, however, is damn near a miracle. When Fan finally focuses on one set of AWOL migrant parents---whose teen daughter has a major ax to grind---you can feel how the years of absence will soon bring a bad situation to a boiling point. The film's ability to switch from a macro survey of a phenomenon to a micro case study hammers its point home. This is what capitalism has done to the country; here's how it's damaged the family unit.---David Fear
Watch the trailer
Users say
<strong>Rating: </strong><span class='lf-avgRating'>0</span>/5