Mansome (PG-13)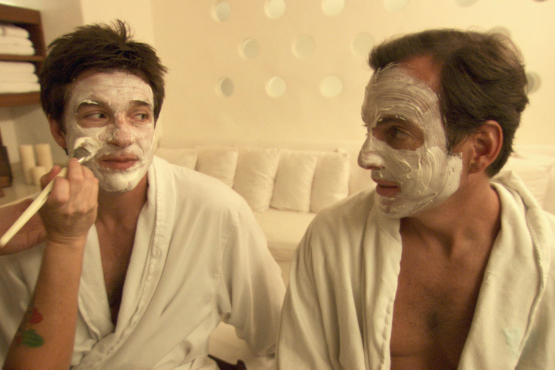 Jason Bateman, left, and Will Arnett in Mansome
Time Out rating:
<strong>Rating: </strong>2/5
Not yet rated
Time Out says
Tue May 15 2012
What's it mean to be a man in our modern age? Has the so-called feminization of men via grooming, skin care, etc., rendered traditional ruggedness obsolete? Is exfoliation really a kinder, gentler version of castration? These are the deep thoughts bandied about in Morgan Spurlock's look at today's culture of remaking male identities through product marketing—questions that, naturally, are skimmed over in order to make way for good ol' XY-chromosome kookiness. No one really expected the pop documentarian to wax philosophical over back-waxing, given his penchant for first-person shenanigans in lieu of sociology. As he frets over shaving his iconic mustache, you brace for a gonzo gauntlet featuring the filmmaker submitting himself to the whims of artisan barbers, Robert Bly disciples and retro-virility advocates.
But once [Spoiler alert!] the 'stache goes, so does Spurlock, and what follows is even less interesting: an impersonal Mondo Cane tour of masculine oddities. Check out the competitive beard-growing guy! Gasp as a male narcissist obsesses over his eyebrows and a pro wrestler takes clippers to copious body hair! Giggle over the concept of a product named Fresh Balls, whose purpose is, well, self-evident! In between celebrity commentary and the occasional intelligent remark, the film drops in vignettes featuring Will Arnett and Jason Bateman getting luxurious spa treatments. Their brotherly bickering may be a useful time killer until the new Arrested Development episodes drop, but it's ultimately foamy filler added to a frustratingly frothy film that says nothing about its subject.
Follow David Fear on Twitter: @davidlfear
Author: David Fear
Write your own review