Night Across the Street: movie review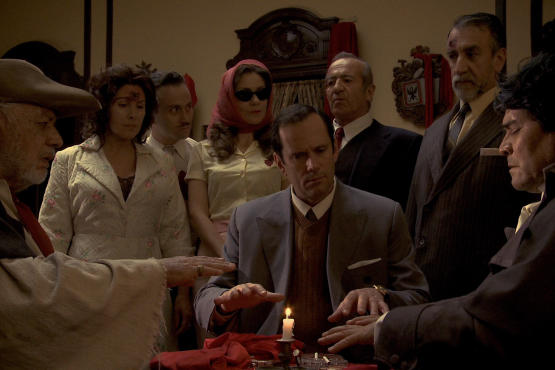 Left to right: Pedro Villagra, Christian Vadim, Sergio Schmied and Sergio Hernandez in Night Across the Street
Time Out rating:
<strong>Rating: </strong><span class='lf-avgRating'>4</span>/5
Time Out says
Tue Feb 5 2013
The 70-year-old Chilean director Raúl Ruiz was planning his next project—the bio-epic Lines of Wellington, eventually completed by his widow—when he passed away in 2011; there was no sense that Night Across the Street, a loose riff on author Hernán del Solar's short stories, would be either a sweeping career summation or a swan song. Yet this puckish story of dying office worker Don Celso (Sergio Hernández) could not serve as a better last-movie epitaph for the filmmaker. It may lack the scope of his intercontinental soap opera, Mysteries of Lisbon (2010), the depth of his Proust adaptation, Time Regained (1999), or the sheer batshit-pulp lunacy of Genealogies of a Crime (1997). But this surreal, sentimental journey does provide an excellent encapsulation of everything Ruiz did best: oddball takes on highbrow lit and lowbrow genre conventions, guided tours of characters' mazelike memory banks, and a reveling in film culture that doubles as a cinephile's
wet dream.
Ping-ponging between the elderly Celso rhapsodizing about the past with a French writer-cum-poetry-teacher (Christian Vadim) and his younger self (Figueroa) playing out those scenarios, Night manages to incorporate a slew of fringe elements into its phantasmagoric landscape. Beethoven and Long John Silver make extended cameos; a botched-assassination subplot lends an aura of B-movie menace, while elsewhere, normal conversations suddenly dovetail into Buñuelian weirdness. But the way Ruiz uses such giddy flourishes in the name of looking back on one's life is both thrillingly irreverent and surprisingly moving. By the time characters shuffle off into the sunset through a gigantic gun barrel (just go with it), you'll feel a tremendous sense of loss—for Hernández's old man saying goodbye to the world, and for a practitioner of personal, expressionistic foreign-film auteurism that's gone gently into the night.
Follow David Fear on Twitter: @davidlfear
Author: David Fear
Users say
<strong>Rating: </strong><span class='lf-avgRating'>0</span>/5