Norwegian Wood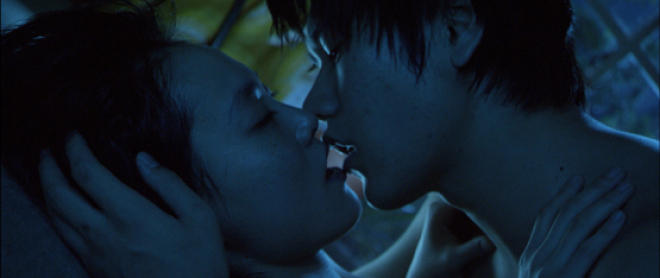 Rinko Kikuchi and Ken'ichi Matsuyama in Norwegian Wood
Time Out rating:
<strong>Rating: </strong><span class='lf-avgRating'>3</span>/5
Time Out says
Tue Jan 3 2012
It potentially reads like a Jules and Jim situation, a beautiful young woman informing a tight male friendship: Her name is Naoko (Babel's Kikuchi), the female pivot point between her high-school boyfriend and his best friend, Toru (Matsuyama). The three are inseparable, until her beau inexplicably takes his own life. When Naoko and Toru meet again years later, they consummate the unfinished business of mourning by impulsively making love. She spirals into madness; he begins an on-again, off-again relationship with the world's most noncommittal coquette (Mizuhara). Yet the ghost of their late comrade still hovers between them, forever pulling them together carnally yet pushing them apart romantically.
Adapting the 1987 novel that transformed Haruki Murakami from popular writer to the J-lit equivalent of Justin Bieber, director Anh Hung Tran (The Scent of Green Papaya) doesn't skimp on the book's '60s nostalgia, playing up the funky period fashions and retro-future decor. The Vietnamese filmmaker's real emphasis, however, is on translating the story's sensuality---his stock-in-trade---and Norwegian Wood's best moments come from either baroque overstylization (bathing everything in blue or yellow, Jonny Greenwood's Sirkian-strings score) or bare minimalism (the gentle pitter-patter of rain). Tran's much more interested in crafting textured, isolated moments than building narrative momentum, and those who share his love of languid lushness will appreciate luxuriating in long stretches of beauty for its own sake. As a chronicle of grief and passion, however, the film is perilously close to being an exercise in tactile but touchy-feely passive-aggression.
Follow David Fear on Twitter: @davidlfear
Watch the trailer
Author: David Fear
Users say
<strong>Rating: </strong><span class='lf-avgRating'>0</span>/5