Nuit #1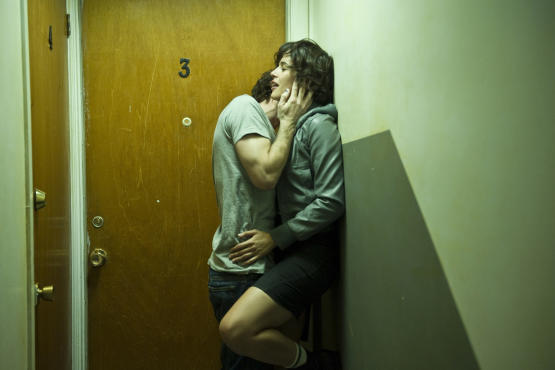 Dimitri Storoge and Catherine de Lean in Nuit #1.
Time Out rating:
<strong>Rating: </strong><span class='lf-avgRating'>3</span>/5
Time Out says
Fri Jul 20 2012
They bounce up and down, these dancers in a Quebec nightclub lost in the revelry of the lights and the drugs and the beat. (That they all appear to be slo-mo pogoing to some unheard techno song instead of the droning Serge Gainsbourg cover playing on the soundtrack doesn't detract from the secondhand high.) Gyrating among the throng is twentysomething Clara (Catherine de Léan), her eyes closed as she blissfully jumps, jumps, jumps. Suddenly, Clara is frantically sucking face in the doorway of a man she's just picked up, a Ukrainian named Nikolaï (Dimitri Storoge). Clothes are discarded, condoms procured, and a long bout of realistically graphic sex leaves the couple sleepy and spent. But for these two, the night is just beginning.
Other than those clubgoers and some children who appear in a brief coda, Clara and Nikolaï are the only people present in Anne Émond's sexed-up chatfest; until those kids pop up, you'd almost think they're the last two people on earth. If you can say nothing else about this Canadian rom-drama, it captures the heady rush of hooking up with someone new, though the long, tortuous exchanges and torn-from-someone's-therapy-session monologues that occur after their tryst (they engage in one-night stands, see, because they hate themselves! Quelle revelation!) don't suggest a postcoital hangover so much as a collegiate composition exercise writ large. Thank Rohmer that the performers are compelling: Both de Léan and Storoge give you peeks at the genuine anguish lurking underneath the characters' narcissistic bluffing and porno posturing, even if the script drowns their best moments in verbosity. Sometimes, a shot of someone dancing or crying is worth more than a thousand words.
Follow David Fear on Twitter: @davidlfear
Author: David Fear
Users say
<strong>Rating: </strong><span class='lf-avgRating'>0</span>/5