Port of Shadows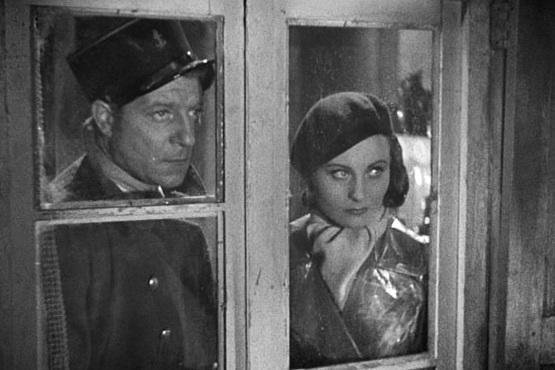 Jean Gabin and Michele Morgan in Port of Shadows
Time Out rating:
<strong>Rating: </strong>5/5
Not yet rated
Time Out says
Tue Sep 11 2012
"Society is what it is, a bit sinister, a bit seamy…but I've heard there are beautiful things in it, too," says a suicidal artist in Marcel Carné's wistful piece of prewar perfection, at once encapsulating a cinematic tone and a bittersweet worldview. Rereleased this week in a restored digital print, Port of Shadows stars midpeak Jean Gabin as an AWOL soldier (also named Jean), looking for shelter and renewal in the shipyards of Le Havre. While hiding out in a saloon shack run by a weary eccentric named Panama (Édouard Delmont), he meets and melts over Nelly (Michèle Morgan), a saucer-eyed beauty in a beret and see-through raincoat who's on the run from her handsy, possibly diabolical uncle, Zabel (Michel Simon). A new life and new identity await Jean on a boat bound for South America, but those gorgeous orbs are tough to leave behind.
Everything in Jacques Prévert's script is essential—seemingly throwaway lines loop back to revelations, and shoulder shrugs sum up characters—without sacrificing an overarching, undefinable sense of operatic futility. For these outcasts, life is as heavy and elusive as the fog that never abates in this port town; and the film's greatness arises from its belief in the transcendence of impermanence, in the immortality of fleeting but true affections. From Gabin's fatigued magnetism to cinematographer Eugen Schüfftan's woodcut-worthy attention to texture, this is movie melancholia of the very highest order.
Follow Eric Hynes on Twitter: @eshynes
Author: Eric Hynes
Write your own review