Sleepless Night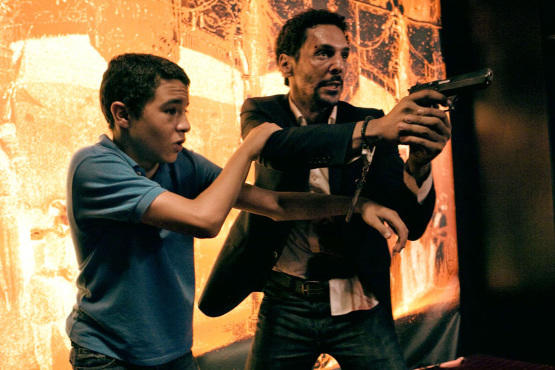 Tomer Sisley, right, in Sleepless Night
Time Out rating:
<strong>Rating: </strong>4/5
User ratings:
<strong>Rating: </strong>5/5
Rate this
Time Out says
Mon May 7 2012
So there's this crooked cop named Vincent (Tomer Sisley), see, who's just hijacked several kilos of coke in a predawn raid; the plan is to unload the payload, then maybe treat that stab wound he procured during the fracas. Except the gangster (Serge Riaboukine) whom this shady police officer has stolen from does not take kindly to being ripped off, and he's not above kidnapping Vincent's son in order to get his drugs back. Blow in tow, our antihero shows up at the kingpin's nightclub and stashes the goods in a restroom. Then the Internal Affairs hotshot (Dominique Bettenfeld) who's been following Vincent—the kind of dogged pursuer who'd make Inspector Javert seem blasé—nabs the narcotics on the sly, throwing a serious wrench into everyone's plans. Meanwhile, the criminal bigwig is supposed to pass said narcotics over to his very unhappy, loose-cannon client, and has given Vincent one hour to retrieve the M.I.A. yayo. And…and…
Who knew the French would start lapping us in terms of action movies? There's no doubt that Frédéric Jardin has studied classic American cops-versus-crooks thrillers like sacred texts, nor is it arguable that, with this tightly paced nail-biter, he's made a film that's surpassed its U.S. counterparts by a country kilometer. Breakneck doesn't begin to describe the pacing here, with Jardin running the charismatic Sisley and various peripheral players through one claustrophobic set-piece gauntlet after another, and if the emphasis on relentlessness turns into exhaustiveness by the end, you still get some choice shoot-outs and the single greatest restaurant-kitchen screen fight ever before fatigue finally sets in. An American remake is already being prepped. We suggest Hollywood simply cries uncle now and calls it a day.
Follow David Fear on Twitter: @davidlfear
Author: David Fear
Share your thoughts