The Army of Crime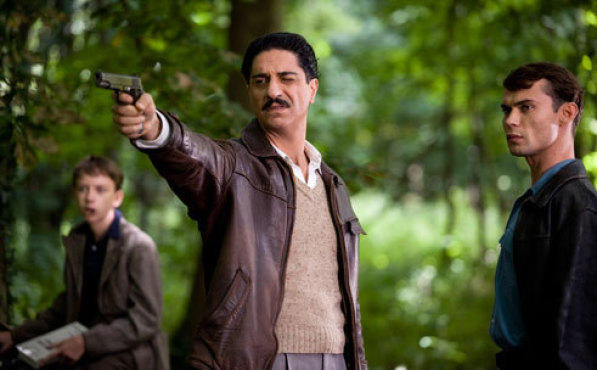 THE WAY OF LE GUN Stvenin, right, teaches Abkarian to shoot.
Time Out rating:
<strong>Rating: </strong><span class='lf-avgRating'>2</span>/5
Time Out says
Mon Aug 16 2010
World War II was certainly a bore if we're to believe this dully competent look at the FTP-MOI, a Gallic resistance force led by French-Armenian poet Missak Manouchian (Abkarian). There's nothing stirring or engaging about their exploits; the clock just dutifully ticks down the days and incidents until the revolutionaries are led off to SS slaughter (cue explanatory credits scrawl). Each character feels interchangeable, given a single defining trait—the defiant one (Stvenin); the hothead (Leprince-Ringuet)—that they then brandish like one of those HELLO MY NAME IS badges. Imagine Jean-Pierre Melville's similar resistance drama Army of Shadows, only populated by slightly differentiated stick figures instead of flesh-and-blood humans, and you'll have an idea of the effect.
Traditional suspense is bypassed in favor of staid observation, a stylistic gambit that pays off only in a humorous scene in which the crew searches with unnerving calm for the pin to an unexploded grenade. But even as director Robert Gudiguian leeches out certain movie-ish touches (the violence never plays on audience bloodlust), he steadfastly maintains others; almost every cast member, especially starlet Virginie Ledoyen as Manouchian's wife, looks too healthily primped and plumped. There's no sense of the oppression France felt under Nazi rule. It's all just play-acting in period-specific attire. You can almost hear the AD calling lunch.—Keith Uhlich
Watch the trailer