The Counselor: movie review (R)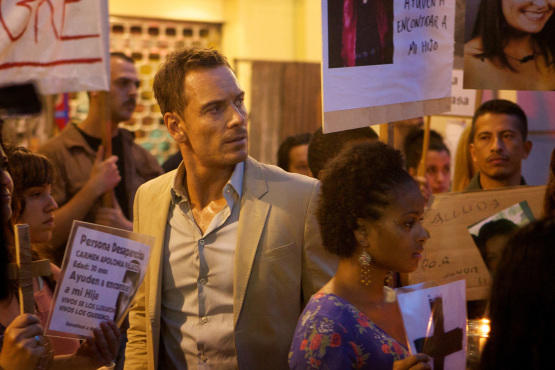 Time Out rating:
<strong>Rating: </strong><span class='lf-avgRating'>3</span>/5
Time Out says
Thu Oct 24 2013
No need to bring lawyers, guns and money: Ridley Scott's film of an original Cormac McCarthy screenplay comes readily equipped with all three, telling the tale of a Texas legal eagle (Michael Fassbender) embroiled in shady dealings involving cocaine and Mexican cartels. (The character is introduced as he's sweet-talking Penélope Cruz beneath the sheets, before using other means of oral persuasion on her. We hope Fassbender's agent got an extra 10 percent commission.) Folks familiar with the novelist's work know the man prefers to let his narratives simmer slowly in Southwestern existential dread before going in for the kill, and whether McCarthy's sui generis voice can be translated to the screen without turning into a sluggish parody of laconic posturing is always a 50-50 proposition (see No Country for Old Men for the yay column, All the Pretty Horses for the nay). During the first half of Scott's drama, you'll find yourself wondering if the procession of interminable verbal tête-à-têtes wasn't best left on the page; when a viewer starts wishing that long scenes involving Cruz and Cameron Diaz's half-naked femme fatale, or ones with Fassbender and Brad Pitt's pretty-boy go-between jawing away in a bar, would just end already, there's most certainly a problem.
Our advice: Wait it out. Once Fassbender's deal goes bad, as one knows it will, everything locks wonderfully into place. What seemed ponderous before now comes off as the gradual tightening of a noose around the neck, and as the violence inches into Grand Guignol territory and the metaphor-heavy soliloquies become more eloquent (Rubén Blades's speech about accepting the consequences of one's choices is a quietly chilling showstopper), you're reminded that Sir Ridley has long been fluent in the language of fatalistic masculinity. For every camp element like Javier Bardem's rainbow-vomit outfits or Diaz's onanistic tryst with a car windshield, there are a dozen poetic-pulp moments that channel McCarthy's pitiless view of the world to a tee. Greed and grief are the only constants in the world, the movie tells us. Everything else is just the negotiating of a price.
Follow David Fear on Twitter: @davidlfear
Author: David Fear
Release details
Rated:
R
US release:
Fri Oct 25, 2013
Duration:
111 mins
Cast and crew
Director:
Ridley Scott
Cast:
Brad Pitt, Michael Fassbender, Penélope Cruz, Cameron Diaz, Javier Bardem
Screenwriter:
Cormac McCarthy
Users say
<strong>Rating: </strong><span class='lf-avgRating'>0</span>/5