The Freebie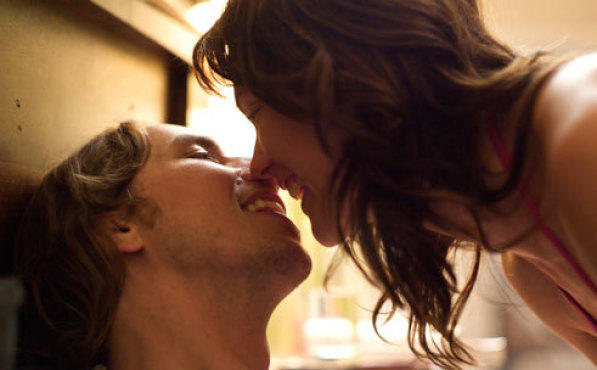 THE LONG KISS GOOD NIGHT Shepard and Aselton lock lips.
Time Out rating:
<strong>Rating: </strong><span class='lf-avgRating'>2</span>/5
Time Out says
Thu Sep 9 2010
A good relationship sours fast when an adulterous what-if experiment becomes real, in this low-fi, high-concept film that funnels shaky-cam naturalism into a pithy, punch-line premise. Darren (Shepard, all nasal whine) and Annie (Aselton) are a compatible duo, but after seven years together, they've hit a sexual dry patch. Late-night pillow talk leads to a novel idea: Suppose they permitted each other a one-night stand. Don't try this at home, horndogs.
Writer, director and star Katie Aselton offers an indecent proposal of a story that initially suggests an honest reconsideration of monogamy---then quickly, steadily devolves into a moralizing fable. There's virtually no off-topic conversation; Darren and Annie simply get right down to business, as he picks up a bodacious barista and she sneaks off to the bathroom with a bartender. Though the movie niftily cuts between the trysts, it leaves us in the dark about exactly what transpired other than the morning-after, mascara-stained regret. She withdraws, he hurls plastic cutlery, and any notions about sexual satisfaction are forgotten or dismissed. So much for progressive thought; as scolding as a pro-life video, The Freebie grimly reaffirms the status quo, concluding it's better to have no sex at all than to forsake the Ikea-furnished domestic dream.---Eric Hynes
Watch the trailer
Users say
<strong>Rating: </strong><span class='lf-avgRating'>0</span>/5