The Inbetweeners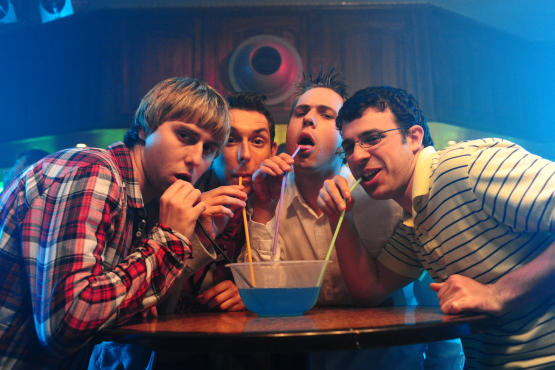 From left: James Buckley, Blake Harrison, Joe Thomas and Simon Bird in The Inbetweeners
Time Out rating:
<strong>Rating: </strong>2/5
Not yet rated
Time Out says
Tue Sep 4 2012
For fans of Damon Beesley and Iain Morris's beloved late-aughts Britcom, The Inbetweeners, the notion of spending more time with the defunct show's high-school quartet—socially awkward, horny nerd Will (Simon Bird); socially awkward, horny nerd Jay (James Buckley); socially awkward, horny nerd Simon (Joe Thomas…are you sensing a trend yet?); and socially awkward, horny nerd Neil (Blake Harrison)—will be like a gift from the gross-out–comedy gods, Blighty division. For everyone else, i.e., the majority of American moviegoers who have no idea the series even exists, the feeling of watching some forgotten American Pie sequel with English accents will leave cartoon question marks above their heads.
Granted, this feature-length addendum deals with certain elements—teenage guys are totally clueless about the opposite sex; there is nothing funnier than a good dick, shit and/or vomit joke—that have universal appeal. But none of it means anything unless you've gotten to know, and perhaps even grown to love, these characters over three seasons, and most of us on these shores have not. So what we're left with is just another story of hormonally charged beta males acting like idiots, this time on a summer holiday in Crete—which means that, in addition to recycled humiliations from the show, the film includes stale jokes about the Greeks, drunken yahoos and a sunburn that resembles a spewing penis. Come to think of it, even the show's disciples may feel like they've been cheated.
Follow David Fear on Twitter: @davidlfear
Author: David Fear
Write your own review