The Invisible War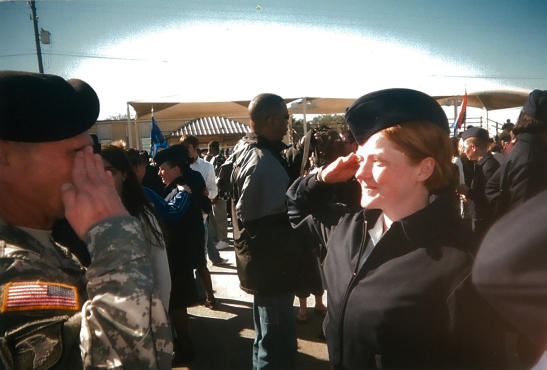 Airman 1st Class Jessica Hinves, right, in The Invisible War
Time Out rating:
<strong>Rating: </strong><span class='lf-avgRating'>3</span>/5
Time Out says
Tue Jun 19 2012
The Women's Armed Services Integration Act of 1948 allowed female soldiers to start serving alongside their male counterparts in the U.S. military; since then, members of the "fairer sex" have protected our country with high honors. To hear the various recruits in Kirby Dick's documentary speak about their admiration and respect for the Army, Navy, Air Force and Marines is to understand the inherent appeal of joining these venerable institutions—and explains why their experiences in said institutions constitute such a massive betrayal. Every one of their stories starts the same way: I couldn't have been prouder to wear the uniform. Every one of their stories ends the same way: I was sexually assaulted by a male peer or superior, was somehow blamed (!) for my attack and watched my attacker go unpunished.
Dick's exposé about this shameful epidemic (20 percent of female veterans have reported being raped while enlisted) shines a light on an ongoing issue that the armed forces are inadequately equipped to deal with or, worse, try to pass off as "an occupational hazard." That these crimes don't run exclusively along gender lines—several male victims of rape come forward to talk—suggests there may be something in the military's aggression-über-alles culture that's feeding this problem. But though the film mentions the number of soldiers who enlist with prior sex-crime histories, the predator-friendly atmosphere of bases and the lack of overall accountability, any attempt to look at deeper-rooted causes behind these assaults is completely AWOL. (Imagine a similar discussion about pedophile priests that never looked at how the culture of the Catholic Church contributes to such transgressions; you're left poring over symptoms instead of the larger disease itself.) It's one FUBAR of a question mark in Dick's doc, albeit one that doesn't diminish The Invisible War's power to enrage and advocate change. These victims are now no longer invisible—an achievement that shouldn't be dishonorably dismissed.
Follow David Fear on Twitter: @davidlfear
Author: David Fear
Users say
<strong>Rating: </strong><span class='lf-avgRating'>0</span>/5