The Other Guys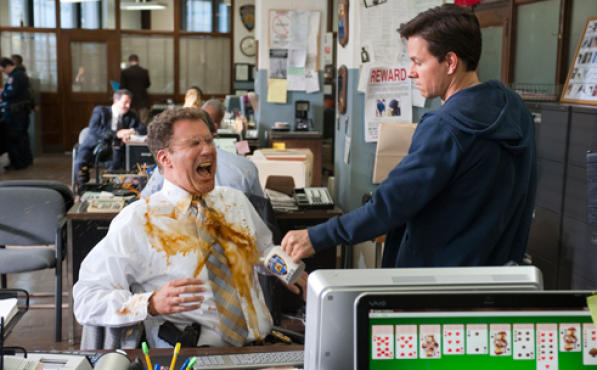 Time Out rating:
<strong>Rating: </strong><span class='lf-avgRating'>3</span>/5
Time Out says
Posted: Mon Aug 2 2010
"I'm the guy who does his job," goes Mark Wahlberg's oft-quoted insult from 2006's The Departed. "You must be the other guy!" So it's a nice twist of cinematic fate that, in Adam McKay's gonzo goof on buddy-cop flicks, the actor finds himself on the flip side of that bon mot. His hot-tempered NYC officer, Terry Hoitz, has been busted down to desk duty after an embarrassing incident involving a discharged weapon and a New York Yankee; Terry's partner, Allen (Ferrell), is a dweeby forensic accountant who got bumped up to the bull pen. These sad sacks live in the shadow of two macho supercops---kudos, Samuel L. Jackson and Dwayne Johnson!---renowned for their sexy, property-damaging style of law enforcement. Fate hands Terry and Allen a break; the film, meanwhile, gives Wahlberg and Ferrell beautiful opportunities to turn their anger-mismanagement-meets-milquetoast act into an absurdist version of Abbott and Costello.
Forget the film's limp attempts to send up Lethal Weapon movies while still delivering boom-boom--bang-bang thrills; you can also ignore the gossamer excuse for a plot involving a financial bigwig (a wasted Coogan). Like McKay and Ferrell's other collaborations (Anchorman, Talladega Nights), this comedy works best as an excuse for their bizarro Funny or Die!--style humor: hobo sex in a Prius, ironic soft-rock-sploitation, metaphors about tuna attacking lions. Whenever Wahlberg and Ferrell have to do anything other than trash-talk or infuriate each other, The Other Guys shoots blanks. Give these two wits some choice non sequiturs about pimping, Jersey Boys and highly elaborate sex play, however, and you've got the makings for a new smart-stupid franchise.---David Fear
Watch the trailer
Users say
<strong>Rating: </strong><span class='lf-avgRating'>0</span>/5