The Purge: movie review (R)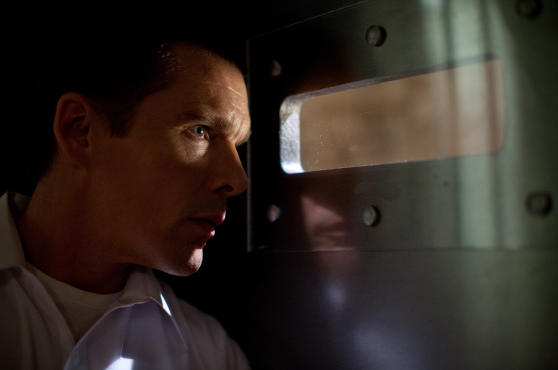 Time Out rating:
<strong>Rating: </strong><span class='lf-avgRating'>2</span>/5
Time Out says
Tue Jun 4 2013
This sci-fi thriller's fun, Tenth Victim–like premise—in the near-future, violent crime is legalized one night a year as a "lawful outlet for American rage"—deserves a Paul Verhoeven to push it into perversity. Where are the glitzy TV ads for firearms, the decadent murder parties, the scheming wives and husbands? Instead, we settle into a manicured suburban neighborhood, where affluent security-system salesman James (Ethan Hawke) tucks his loving spouse (Lena Headey) and two kids in for what he hopes will be an uneventful evening. Planted a bit too obviously are signs of trouble, such as the teenage boyfriend who likes to use bedroom windows, or the catty neighbor bearing cookies and passive aggression. Local warning sirens wail, and soon comes a knock at the door.
As you start hatching cooler ideas of your own (and trust us, you will), the movie drifts into a dead zone from which it never escapes. A bloodied street-gang victim (Edwin Hodge) is admitted by James's kindhearted son, but the guy quickly turns out to be a red herring as the film morphs into a dull version of Straw Dogs—and why, on this officially licensed night, would lynch mobs require creepy masks like the ones in The Strangers? The plot dumbs down dramatically, even as bumpy handheld camerawork keeps the energy sporadic. Watch Ethan Hawke in Before Midnight—or even last year's Sinister—and you'll know he can do punctured arrogance expertly; The Purge's law-abiding patriarch deserves a moment of terrible doubt as well, but the filmmakers are too much in love with their made-up holiday to observe it to the fullest.
Follow Joshua Rothkopf on Twitter: @joshrothkopf
Author: Joshua Rothkopf
Users say
<strong>Rating: </strong><span class='lf-avgRating'>0</span>/5