The Rum Diary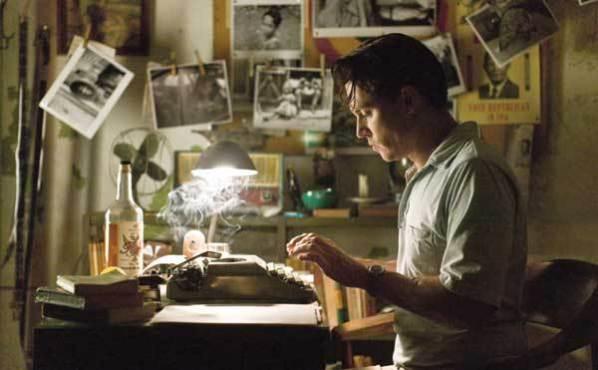 Johnny Depp in The Rum Diary
Time Out rating:
<strong>Rating: </strong><span class='lf-avgRating'>3</span>/5
Time Out says
Mon Oct 24 2011
The year is 1960, the city is San Juan, Puerto Rico, and (cue Dean Martin's "Volare" on the sound track) the nostalgia is all ring-a-ding-ding. A giant bloodshot eyeball greets us in close-up; given that it belongs to one Paul Kemp---a portrait of his creator, Hunter S. Thompson, in all but name---and that the author's avatar is played by Fear and Loathing in Las Vegas's Johnny Depp, you sense that this is only the first bleary rum-fueled diary entry of many. This story about the exotic misadventures of a young journalist may stem from both Thompson's own experiences in P.R. and his semiautobiographical first novel about the same, eventually published in 1998. But the movie is designed, primarily, as an origin story: Witness the first stirrings of the writer's voice. Watch as his political consciousness grows fangs (enter bte noire Richard Nixon). There will be drugs.
You can't deny the fun of seeing Depp retro-construct a muted version of his Vegas mugging like De Niro riffing on Brando's Don Corleone. (His reaction to swigging homemade rum is worth the price of admission alone.) But though director Bruce Robinson knows debauchery---he made Withnail & I---his grasp of the narrative's Candide-like thrust and critique of American imperialism feels tentative and halfhearted. The filmmaker is much more interested in setting Depp, Michael Rispoli's stubbly sidekick and Giovanni Ribisi's ghost-of-hangovers-future wastoid loose in picturesque locales, or putting Amber Heard in danger at dodgy shanty nightclubs (mind that borderline racism, pal), than in following his antihero's arc. You wonder how Thompson would've felt seeing his early attempt at literary greatness turned into a Gonzo-by-numbers tourist attraction. Still, he'd probably have loved how Depp said "like an accusatory giblet!"
Follow David Fear on Twitter: @davidlfear
Watch the trailer
Author: David Fear
Users say
<strong>Rating: </strong><span class='lf-avgRating'>0</span>/5