The Woman in Black (PG-13)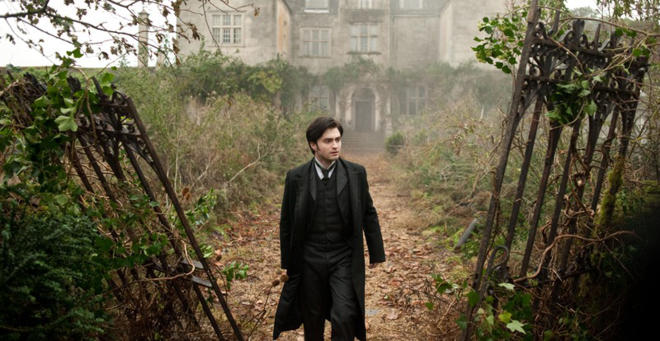 Daniel Radcliffe in The Woman in Black
Time Out rating:
<strong>Rating: </strong>4/5
Not yet rated
Time Out says
Thu Feb 2 2012
And you thought Harry Potter was woeful: A sickly pall hangs over young lawyer Arthur Kipps (Radcliffe), the likes of which would silence the chirpiest sparrow. No smiles for those with a beautiful wife who died giving birth, a four-year-old son to support and an employer with little patience for ongoing displays of grief. Given one last chance to prove his dedication to the firm, Arthur hops a train to a remote English village to settle a deceased client's estate. Quite the setting: The fog is thick, the locals---aside from a wealthy landowner (Hinds)---are unfriendly, and the kids keep keeling over. Couldn't have anything to do with that coal-black specter Arthur keeps seeing, could it?
There isn't a bump in the night that this gripping chiller from the newly re-formed Hammer Productions doesn't utilize: creaky floorboards, doors opening and shutting of their own will, freaky playthings coming to life. Yet the film rarely feels mired in boo-movie conventions, thanks to director James Watkins's expert widescreen framing (beware the seemingly empty rocking chair!) and Radcliffe's precise, reactive performance. He's our hypnotically somber guide through this house of horrors---the mostly dialogue-free middle section is a scare-film master class---and when a becalmed smile does finally cross his lips, it's in the most giddily mordant of circumstances. As Arthur embraces the darkness, so does the darkness embrace us.
Follow Keith Uhlich on Twitter: @keithuhlich
Watch the trailer
Author: Keith Uhlich
Share your thoughts