Vamps (PG-13)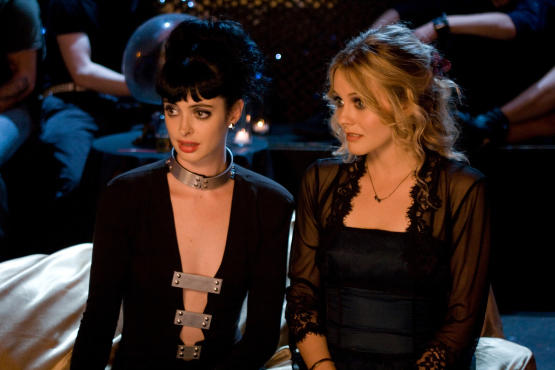 Krysten Ritter, left, and Alicia Silverstone in Vamps
Time Out rating:
<strong>Rating: </strong><span class='lf-avgRating'>2</span>/5
Time Out says
Posted: Wed Oct 31 2012
Some 17 years after her career-reviving hit Clueless, writer-director Amy Heckerling recharges by reteaming with star Alicia Silverstone for another loosely literary contemporary satire. Unlike her neck-biting brethren, Goody (Alicia Silverstone) is a pacifist vampire who subsists on the blood of New York City rats, not humans. Centuries old, yet just as youthful as her perky, more recently undead best friend, Stacy (Krysten Ritter), Goody tires of keeping up with the latest trends—"Staying young is getting old," she sighs—and instead dons passé flapper skirts, reconnects with an old hippie flame (a refreshingly recessive Richard Lewis) and encourages Stacy's endgame romance with a Van Helsing scion (Dan Stevens).
Despite fine scenery-chewing by old hams Sigourney Weaver and Malcolm McDowell (as a swishy Village-dwelling Vlad the Impaler), the film's comedic potential is defanged by a pervading tone of embittered nostalgia. Goody doesn't mock our smartphone-loving society with barbed affection—she just wants it to go away. "Remember we said we'd keep up with the times, even though it's not as good as the '80s," scolds Stacy. (Hey all you fans of the nuclear-proliferation era, can I hear a what-what?) Vamps is commendable, even moving, as a raw-nerve confession of anachronism—but it's also what keeps this strained satire from drawing any real blood.
Follow Eric Hynes on Twitter: @eshynes
Author: Eric Hynes
Users say
<strong>Rating: </strong><span class='lf-avgRating'>0</span>/5