White on Rice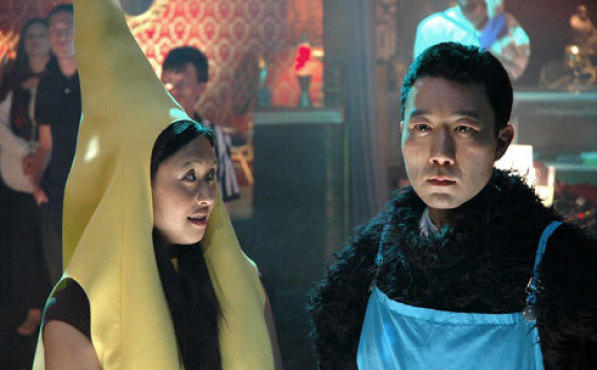 SEX A-PEEL Watanabe watches his friend literally go bananas.
Time Out rating:
<strong>Rating: </strong><span class='lf-avgRating'>2</span>/5
Time Out says
Mon Mar 8 2010
Jimmy (Watanabe), an unemployed Japanese manchild and floundering divorc, moves to suburban America to live with his accommodating sister (Nae), her quietly exasperated husband (Takada) and their ten-year-old son, a secret piano prodigy named Bob (Kwong). Imagine Kiyoshi Kurosawa's somber art-house drama Tokyo Sonata if invaded by Napoleon Dynamite, though Jimmy is arguably more alienating and artificially quirky than that cult comedy's cringeworthy hero. To wit: He's 40 and still loves dinosaurs, sleeps in a bunk bed, pisses off every woman he talks to and prides himself on having once worked as a samurai-flick bit player. Is anyone else laughing?
Jimmy's boneheaded antics—setting the kitchen ablaze, accidentally ditching his young nephew on Halloween—might've actually seemed endearing if writer-director Dave Boyle hadn't made his flawed, allegedly lovable character such a selfish mutant. And Watanabe's performance sucks any remaining sweetness right out of this fish-out-of-water comedy; you're ready to call the police once he starts stalking his hot cousin (Chen). Granted, Boyle may be a competent director, but he's missed the mark by not focusing on anybody with real heart: the father and his son, the cousin and her beau—basically, every person here who isn't a cretinous, developmentally arrested creep.—Aaron Hillis
Watch the trailer
Users say
<strong>Rating: </strong><span class='lf-avgRating'>0</span>/5