Washington, DC's best Thai restaurants
This city's home to some superb Southeast Asian spots. Dig in with our guide to Washington, DC Thai restaurants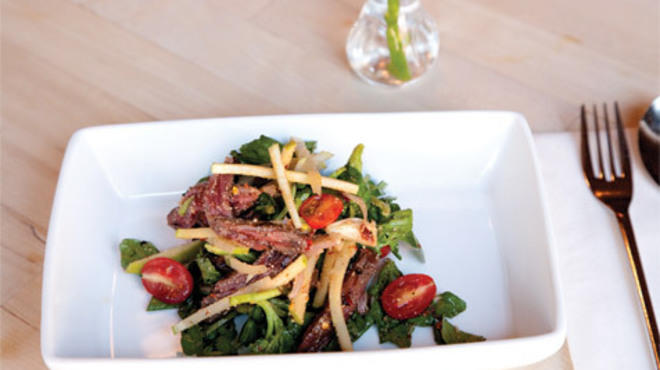 Rated as: 5/5
Price band: 3/4
Critics choice
Johnny Monis was just 24 when he opened Komi, the Greek-inspired restaurant that vaulted him to culinary stardom. For his second place, Little Serow, he took inspiration from northern Thailand. As at Komi, there is no menu; $45 gets you a family-style meal of about seven dishes. Flavors are bright and bold, and the heat can be intense. The menu changes weekly, but dishes might include snakehead fish with bamboo shoots and rice powder or pork ribs with whiskey and dill. The restaurant can only accommodate groups of up to four and doesn't take reservations, but the staff will text you when a table frees up.
1511 17th Street, NW, (Church Street)
More info
Rated as: 3/5
Price band: 2/4
Regent is slightly dressier and more refined (and also somewhat more expensive) than most of DC's other Thai restaurants. The flavors—lots of coconut milk, green and red curry, lemongrass and chili paste—are perfectly balanced, and the setting is serene, with large wood carvings and quiet fountains. Try the panang chicken, green curry and pad eggplant, which comes in a spicy black bean sauce. For dessert, the mango sticky rice is unbeatable.
1910 18th Street, NW, (between Florida Avenue & T Street)
More info
Rated as: 3/5
Price band: 2/4
The chicest of urban-chic Thai places, Rice takes minimalism to the max. The expanse of its cool and neutral-toned walls contrasted with exposed brick is interrupted only by a small fountain; its coconut-milk-scented rice arrives artistically mounded in the center of the plate. Appetizers and entrées are divided into categories of authentic Thai food, healthy options and house specialties; stick with the latter two for originality and assurance of execution. Vegetarians have plenty of choice here. There's no reason not to order a saké Martini or other fancy drink from your young, black-clad server.
1608 14th Street, NW, (between Q & Corcoran Streets)
More info
More great Washington, DC restaurants
---
Cheap eats in DC
---