Hotels
Book the best places to stay in Amsterdam – from luxury to boutique and B&B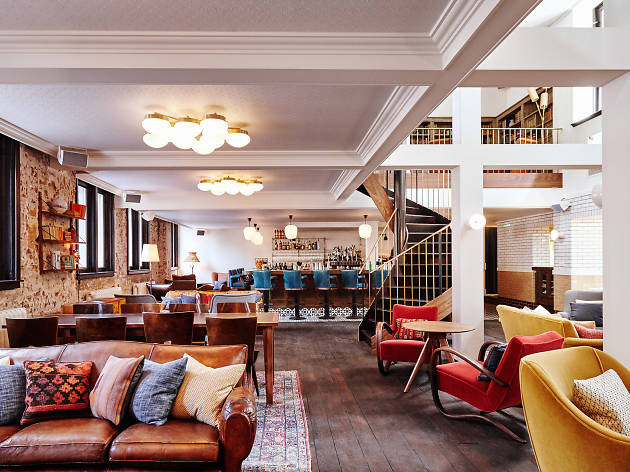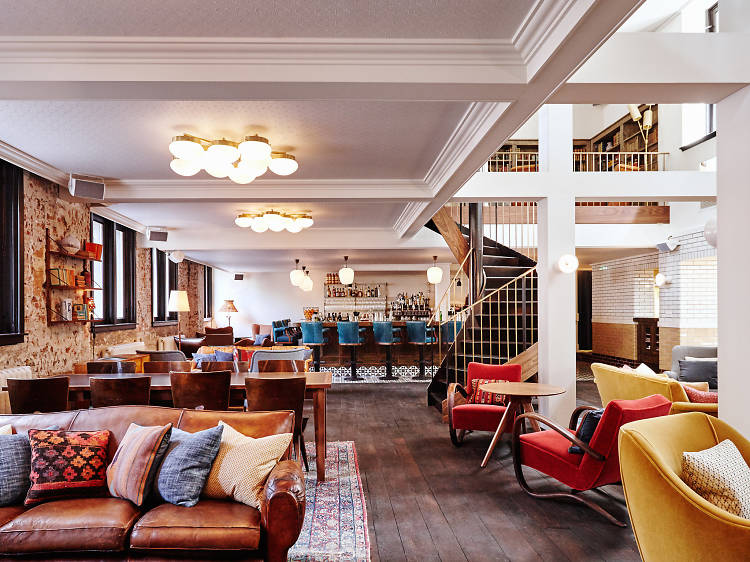 The Hoxton, Amsterdam
It's impossible to stay at The Hoxton without feeling an overwhelming urge to take every single part of it back home with you. By the end of our stay, my wishlist of things to buy when I got back to the UK included tables, chairs, telephones, tiles, the light above our bed and the loo roll holder in the bathroom. The whole place is like something out of Elle Decoration. This attention to detail isn't limited to design either – it extends to the bicycles that you can take for a spin around the city, the map in your room that features decent places to eat and drink nearby, the super-friendly receptionists and the little breakfast bag that gets hung on your door in the morning so that you've got something to take the edge off your rumbling belly. In other words, these guys have put some serious thought into all of the little things that combine to make a hotel stay special. As with The Hoxton's other hotels over in London, you'll probably find yourself spending as much time in the bar and restaurant as your room. There's a double-height ceiling that reaches through to the second floor of the building and makes the whole space feel roomy, while the soft lighting and plump armchairs make it dangerously easy to spend an entire afternoon in here with a glass of wine and a book instead of seeing the sights. If you do decide to get out and about you'll find yourself in the middle of De 9 Straatjes, which is a fine area for a mooch – HAY is a good place to start if you're into Scand
Check prices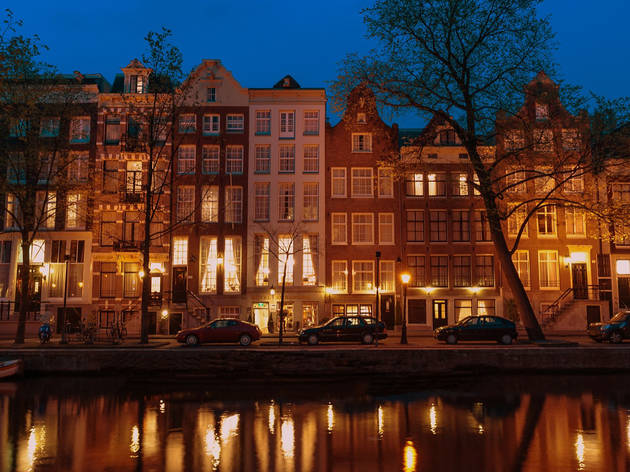 Ambassade Hotel
This literary hotel arranged across ten canal houses is the place to bump in to your favourite author. Staff are discreet and attentive, and rooms - which stretch from single to suite to apartment - are decorated in Louis Quatorze style. Naturally there's a library, only begun in 1987, whose countless shelves are stuffed with signed tomes by illustrious previous guests, which residents are free to peruse.
Check prices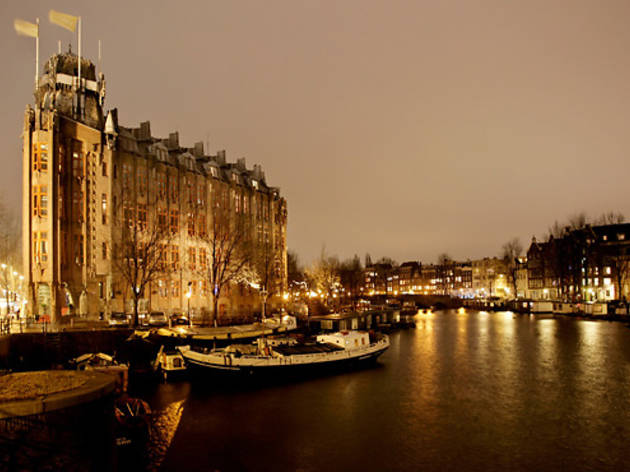 Grand Hotel Amrâth Amsterdam
The Grand Hotel Amrâth Amsterdam occupies the fabulous structure on Prins Hendrikkade known locally as the Scheepvaarthuis or 'Maritime House'. It was on this building that many of the greatest names in Dutch modernism cut their teeth, and from which the signature flowing lines of the architectural style gained a named: the Amsterdam School. On the very spot where Cornelis Houtman and Peter de Keyser set off for the East Indies on 10 March 1595 (opening the chapter on Dutch maritime dominance), construction work began, in 1913, on grand headquarters for a number of major shipping lines, designed by Johan van der Mey – a complete unknown who would, in fact, turn out to be a bit of a one-hit wonder. The same can't be said for those who worked with him: Piet Kramer would later design more than 400 of the city's bridges and Michel de Klerk would come up with Het Schip in Westerpark. The extraordinary carvings on the façade of nautical motifs and Dutch explorers were the second commission for Hildo Krop, soon to make his mark as official city sculptor.
The best budget hotels and hostels in Amsterdam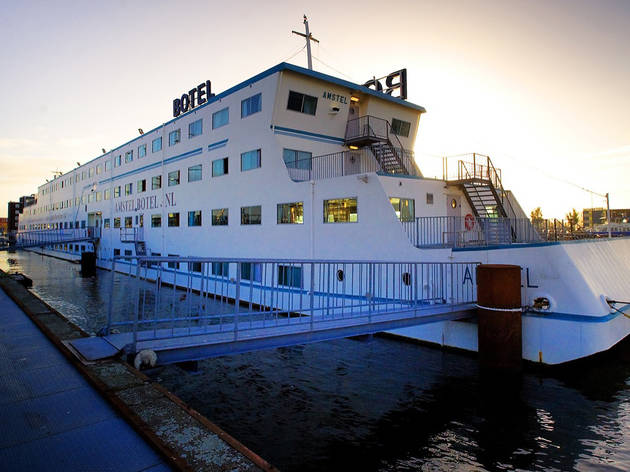 Amstel Botel
Convenient for Centraal Station, the docklands and hops across to Noord, this a good bet if you're looking for good, clean accommodation with the odd frill, like free in-house movies. Unless you are fooled by their 'luxury' rooms boast and come expecting the QEII, you'll be perfectly satisfied. The bar has long opening hours (from 9am to after midnight) and games like pinball and pool, plus a jukebox - ideal for pacifying youngsters on rainy days. Be warned that major renovations in the area mean that views aren't quite as watery or relaxing as they have been.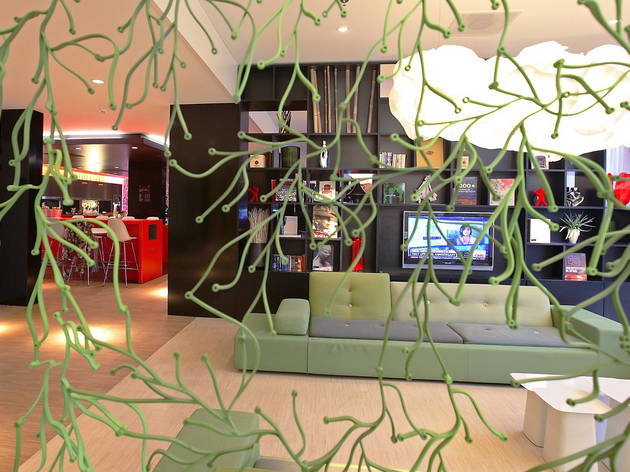 CitizenM
Welcome to the future of hotels: the shipping container at CitizenM. Due to the housing shortage in Amsterdam, local students have long been living in these humble units, but it's safe to say that CitizenM was the first initiative to utilise them as the basis for a 'budget luxury' designer hotel. CitizenM's initiator is Rattan Chadha, who left his role as founder and CEO of Amsterdam-based clothing chain Mexx to cover the globe with shipping container hotels. The first opened at Schiphol Airport in 2008 and was the result of a partnership with advertisers KesselsKramer, who commissioned local design gurus Concrete to style it, and Philips to do the technology. This newer branch, near the Zuidas business district, is on the outskirts of the city centre but is well served by public transport, meaning you can be in postcard territory within minutes. The idea was to strip things down to the bare essentials: 14 square-metre (150-square-foot) rooms are created and assembled off-site, and have wall-to-wall windows, a shower pod, a toilet pod, a king-size bed with luxury linens, flatscreen TV, and a 'mood pad', which controls all of the above plus the lights and temperature. The resulting accommodation is surprisingly comfortable. While the branding is aimed at the new young, global jet-set class, so far it seems that traditional business travellers are keen to make use of CitizenM in the name of taking advantage of a (relative) bargain. Meanwhile, if the lobby feels like a Vitra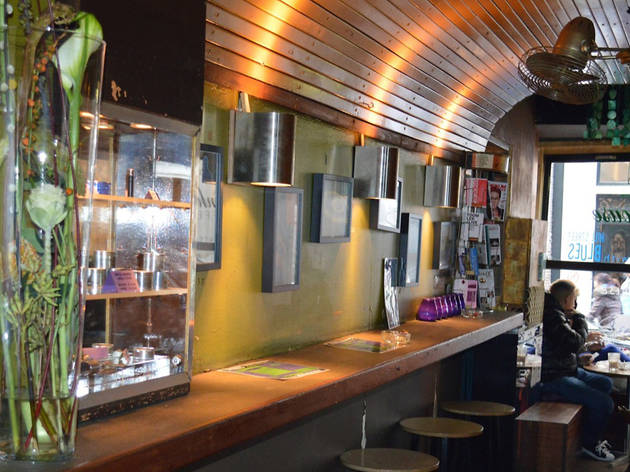 Greenhouse Effect
This snug shop is shaped like a long, sleek train carriage with a polished interior and high-quality ganja. It tends to fill up fast, but they have a separate space operating a similar policy under the same name next door. There you'll find a full bar, regular DJs and, if the drink and dope combination renders you immobile, a good variety of hotel rooms upstairs. Across the street is Getto, arguably the single best gay/straight-friendly bar in town, where the green smoke is also allowed.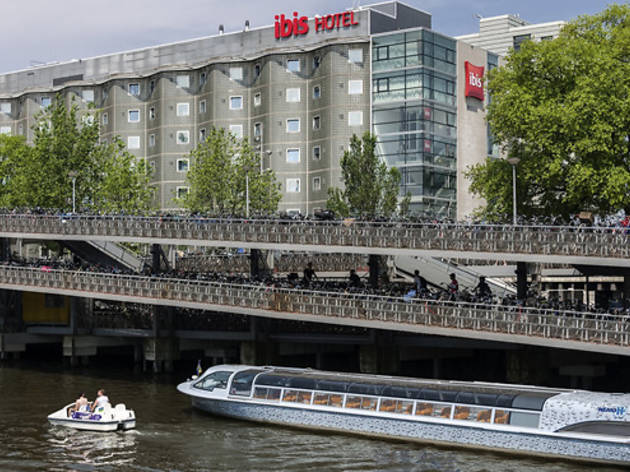 Ibis Amsterdam Centre
If you're arriving in town late or leaving first thing, this place is ideal, not only because it's as close to the railway station as it's physically possible to be without actually being in it, but also because the bar is open 24 hours and breakfast begins at an eyelid-drooping 4am. There's no fancy business here - just the reliable Ibis formula of basic but comfortable rooms and reasonable facilities, plus their 'Fifteen Minute Satisfaction' promise: if a problem isn't sorted out in a quarter of an hour, your stay is free. Other branches of the Ibis hotel chain in Amsterdam are located at Valkenburgerstraat 68 (531 9135) near the Stopera, on Transformatorweg 36 (581 1111), and also at Schipholweg 181 (502 5100) in Badhoevedorp.
Check prices
See more budget accommodation in Amsterdam
Stay in the best hotels in Europe
See more