Amsterdam's best shops and markets
Looking to splash some cash in Amsterdam? Here you'll find the best shops for designer clothes, antiques, vintage stuff and more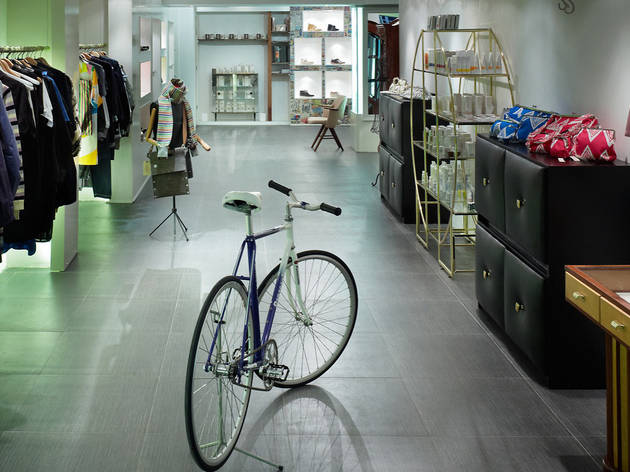 The beauty of shopping in Amsterdam is that, with unique boutiques, eateries, coffee shops (the kind that deal in flat whites rather than green buds) and galleries in most cosy neighbourhoods, there's no need for ugly scenes when it comes to deciding where to flash the cash. Ramble through the 'Nine Streets' (those small lanes connecting Prinsengracht, Keizersgracht and Herengracht in between Raadhuisstrat and Leidsegracht) which used to be the go-to for vintage threads but are increasingly packed to the gills with upmarket boutiques by the likes of Filippa K and Dutch underwear queen Marlies Dekkers; delve into the Jordaan's many dinky and quirky merchants; or tackle the ritzy glam and designer brands of the PC Hooftstraat, the place you're most likely to rub shoulder pads with a native celebrity in the process of re-wardrobing.
For fans of Delftware pottery and Golden Age painting, the Spiegelkwartier across the road from the Rijksmuseum is packed with shops selling real treasures at accordingly high prices. Dress for success and keep your nose in the air if you want to fit in with the legions of big-spending locals here. One thing's for certain: wherever you set foot, you are assured retail treasures of every stripe.
Amsterdam's best shops and markets
In its former space, this shop/agency/gallery's claim to fame was that it was the first place in the world where people could purchase customised Nikes. Now, in a more spacious former bank vault, it offers a spectrum of goods, ranging from bikes to fashion, limited-edition books and scents.
Read more
Amsterdam's largest general market sells everything from pillows to prawns at great prices. The clothes on sale tend to be run-of-the-mill cheapies.
Read more
Now located in a fancier location a mere two blocks from the old shop and an Amsterdam institution since 1972, the American Book Center stocks English-language books and magazines from the US and UK, mostly to bilingual Dutch customers.
Read more
This is where Amsterdam's most highbrow literary browsers choose to hang around. The Athenaeum Nieuwscentrum, as its name might suggest, also stocks newspapers from all over the world, as well as a wide choice of magazines, periodicals and, the bookworm's staple, tomes in many languages.
Read more
If you've got to splurge, this is as good a spot as any. Saucy picks from Anna Sui, Blue Blood, Chloé and Stella McCartney attract the usual mediacrities.
Read more
This fascinating collage of colour is the world's only floating flower market, with 15 florists and garden shops (although many also hawk cheesy souvenirs these days) permanently ensconced on barges along the southern side of Singel. The plants and flowers usually last well and are good value.
Read more
A variety of rubbers of the non-erasing kind to wrap up trouser snakes of all shapes and sizes in a store that's equal parts amusing and inspiring.
Read more
Dappermarkt is a locals' market: prices don't rise to match the number of visitors. It sells all the usual market fodder, and plenty of cheap clothes.
Read more
Translated, 'De Bijenkorf' means 'The Beehive' - an apt alias for this busy department store. Stationed in a grandiose building on Dam Square, this deluxe temple to shopping offers an extensive range of high-end brands, including Chanel, Marc Jacobs and popular Dutch designer Bas Kosters.
Read more
Show more
See more shops and markets in Amsterdam